Overview
If you're an adventure enthusiast, you might have heard about Wim Hof. Also known as the Iceman, Wimhof is a superhuman extreme athlete who has managed to acquire several world records under his belt. He's the person who has climbed 7,400 meters (24,300 ft) on Mount Everest in his shorts and shoes. Remind you, this is the altitude where the majority of mountaineers start losing their senses and usually rely on supplemental oxygen for their survival. Wim is also the person who has super-tolerance against cold as he holds the records for the farthest swim under ice, with a distance of 57.5 meters.
According to Hof, his exclusive breathing control and years of practice are the two reasons why he has been able to do these extraordinary feats. But, Wim also believes that anyone can accomplish such feats by simply regaining control over their breath and mind. To do this, Wim has designed a special breathing program - The Wim Hof Method - that allows people to indulge in a series of breathing exercises and cold therapy.
However, there was a time when 'The Wim Hof Method' was nothing but a brainchild and Hof was only teaching people within a specified area. Due to geographical restrictions, he was unable to share his idea at a global level. That's when he decided to launch a mobile app that would allow people to learn his breathing techniques to practice 'The Wim Hof Method' wherever they want. Hof and his son started looking for developers who could help him launch a cross-platform application where users could sign up and start their journey towards unlocking 'superhuman strengths' right away.
After hearing the idea and the overall vision, we instantly jumped on board to help Wim share his knowledge with a global audience.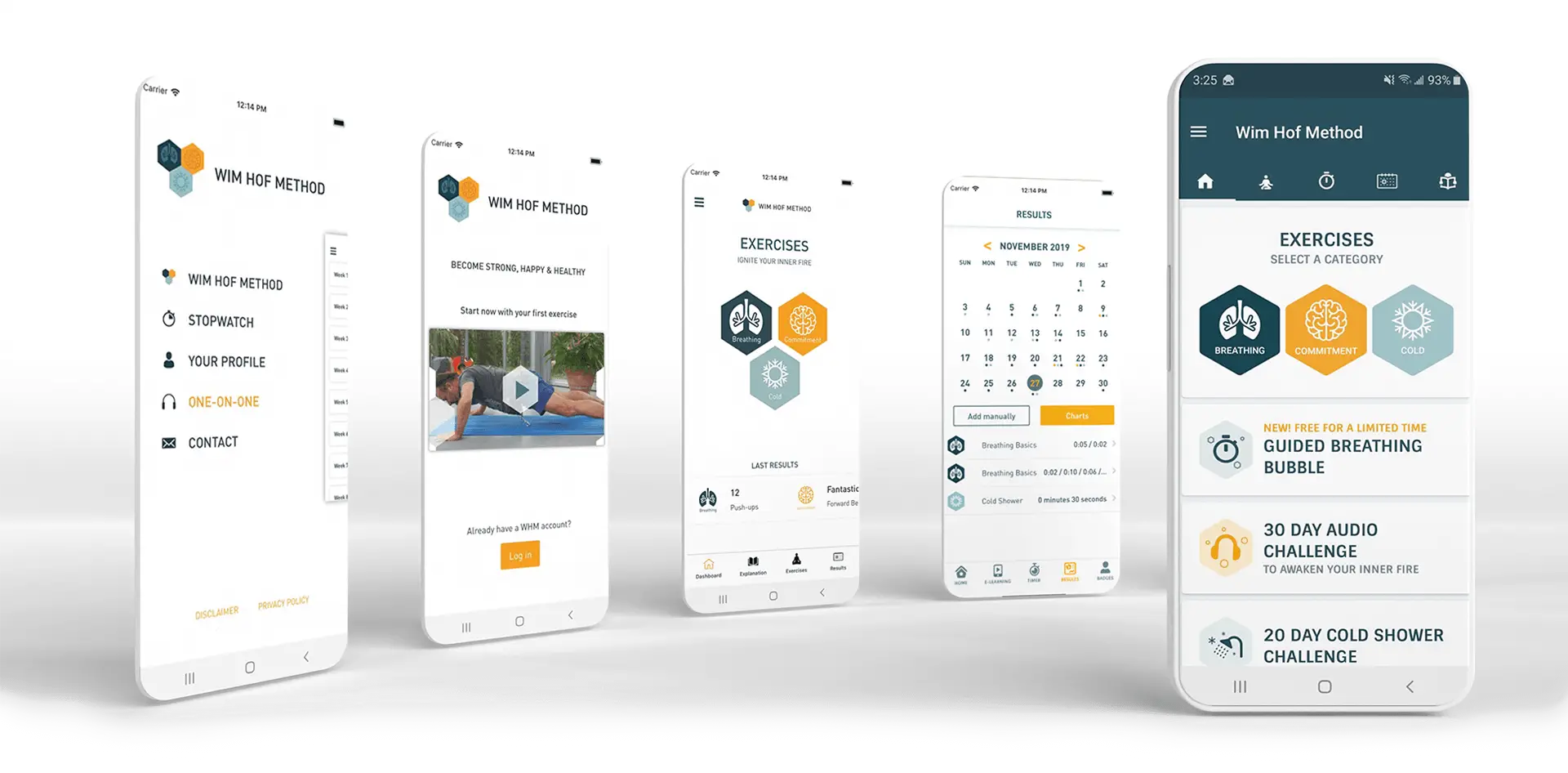 Challenges
Even though several studies had validated the effects of Wim's techniques, he was struggling to attract more people to join his courses. One of the major reasons behind this was all his courses were only available on his personal website, which was buried under millions of other websites on the Internet.
For Wim to expand his client base and share his teachings with the world, it was crucial to establish a mobile presence and reach people through a feature-rich mobile app. The objective was to build a cross-platform mobile application that would help users practice and incorporate 'The Wim Hof' method into their daily life.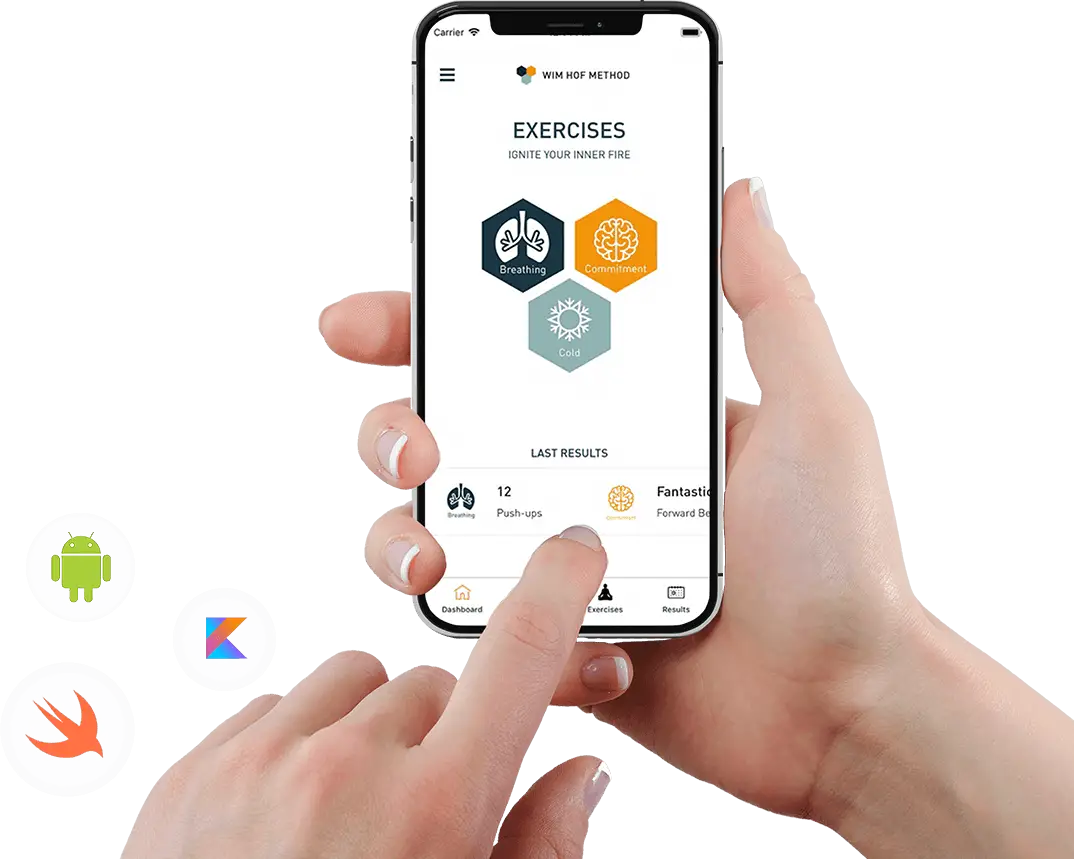 Solution
Building a State-of-the-Art Mobile Platform to Help People Practice 'Wim Hof' Method
As soon as we jumped on board, our UX/UI engineers started with the initial designing phase. Initially, we devised multiple blueprints for the overall layout so that we can analyze the user behavior more conveniently. After a long discussion with the client, the designers finalized a UI layout that would allow users to sign up on the platform and get instant access to Wim's breathing courses right away. To enhance the user experience, our developers integrated different features that made it easier for the end-users to navigate through different modules and track their progress easily.
Explanatory Videos
PDF Guides
Real-Time Progress Tracker
Weekly Analytics
Features
1

Weekly Courses

Starting with the 'Wim Hof' method is a gradual process and the client wanted to separate his breathing exercises in an easy-to-access weekly format so that users can easily master the desired breathing mechanism the right way. Users can also keep track of their weekly process through the admin panel to ensure they don't skip any course.
2

Weekly Challenges

One of the key ingredients of becoming a master of 'The Wim Hof' method is to move to the next phase of the breathing process on time. To do this, our team and the client decided to categorize the entire process into weekly challenges so that users can easily move towards the next level and improve their breathing techniques.
3

Video Tutorials

Over the years, Hof and his team have managed to create hours of video tutorials that make it easier for people to learn different techniques and optimize their performance. Our goal was to divide these tutorials in such a way that users can easily access them and watch the videos whenever they want right on their smartphones. We integrated a dedicated video hosting platform to ensure that there's no unnecessary lagging when users play a video on their device.
4

Activity Tracker

At its core, 'The Wim Hof Method' was projected to be a wellness and health application. So, it was crucial to integrate an activity tracker that would allow users to track their daily activities and get real-time insights on their progress. Apart from Wim's breathing exercises, users could also track their regular workouts using the built-in activity tracker.
5

Cold Shower Tutorials

Apart from breathing, Wim Hof's method also involves consistent exposure to cold, be it in the form of ice baths or cold showers, to regain complete control over one's mind. With the mobile app, users were given the liberty to participate in different cold shower challenges and keep a track of their progress.
6

In-App Payment Support

Finally, our developers also integrated a fully encrypted payment gateway to ensure users can easily pay for the exclusive content and monthly courses. Users can also set up autopay using the desired payment mechanism. This way the specified amount will automatically get deducted from the users' bank account.
Results
A Wellness Mobile App that Acquired More than One Million Downloads
With our well-planned development approach, we managed to build a user-centric wellness platform that allowed users to track their progress and incorporate the 'Wim Hof' method in their daily life. Today, the application has more than one million downloads on both Google Play Store and Apple's App Store and allowed Wim to spread his message across the globe.