Expand Your Pharmacy Business With a

Fully-Customizable Pharmacy Solution
On-demand solutions have become the latest trend in the digital landscape. Consumers don't have the time to visit the actual physical stores to buy different products and mainly rely on home-delivery solutions for shopping. Even, medicines are not a different case. The majority of the population wants medicines to be delivered at their doorstep instead of having them visit dedicated pharmacy shops.
This is why the demand for on-demand pharmacy apps is increasing rapidly. At RV Technologies, our developers have devised a ready-to-launch medicine delivery solution that people can use to locate nearby pharmacy stores, send e-prescriptions, and get medicines delivered at their doorstep. With our ready-to-launch pharmacy solution, you can launch a dedicated pharmacy app and help customers avoid the never-ending queues at the pharmacy shops.
A Sneak Peek into Our
Pharmacy Solution
Streamline the entire medicine delivery process with a Full-Scale medicine delivery platform that consists of separate portals for shoppers, pharmacy-store owners, and delivery agents.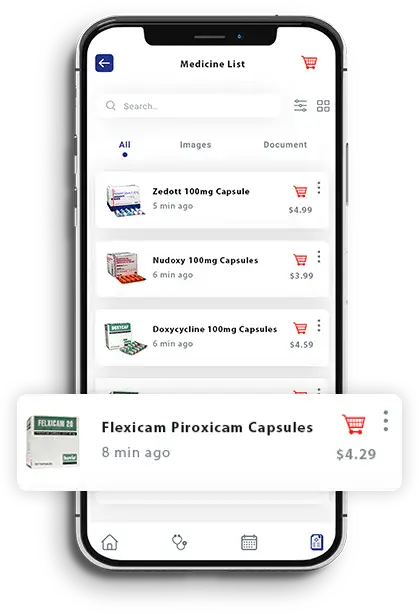 Customer Portal
Let customers look for nearby medical shops,
check availability, and place orders within a
few minutes.
Nearby Stores
Search Filters
e-Prescriptions
Order Management
Order Tracking
Payment Support
AR-Compatibility
Monthly Alerts
Request Free Demo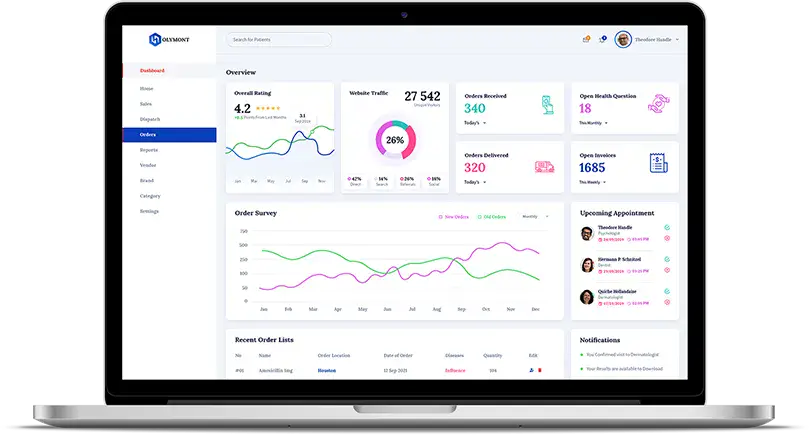 Pharmacy-Shop Portal
With an easy-to-navigate admin panel, pharmacists
will be able to manage their orders and respond to
customer requests right away.
Inventory Management
Respond to Customer Requests
Order Management
Customer Management
Monthly Payouts
Monthly Sales Analytics
In-App Chat Support
Request Free Demo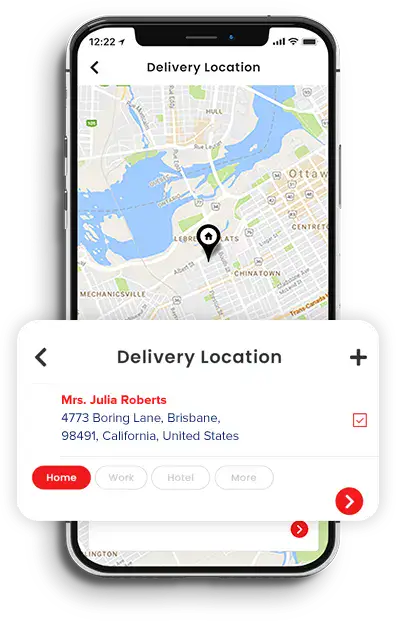 Driver's App
Let the delivery agents find the most optimal route to
customers' doorsteps and get real-time direction updates to
deliver the medicines as soon as possible.
Route Calculation
Status Update
Order Details
Commissions and Payouts
Customer Feedback
Request Free Demo
A Fully-Customizable Pharmacy Solutions for Your Business Objectives
As a professional pharmacy app development company, we understand that there's no point in launching an exact replica of an existing medicine delivery platform. That's why we have devised a fully customizable pharmacy solution that you can customize to cater to your business requirements. From integrating third-party APIs to changing app layouts, our developers will assist you throughout the customization process so that you can launch a unique pharmacy solution.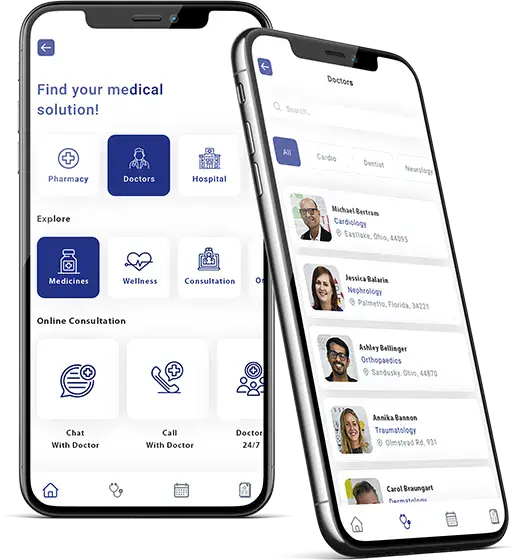 Get Your Pharmacy App Solution
Exclusive Features of Our Ready-to-Use

Pharmacy Solution
When it comes to on-demand solutions, usability is the most crucial factor to launch a successful product in the market. Being a professional pharmacy app development company, our team has built a feature-packed cross-platform solution to help people order medicines from anywhere they want.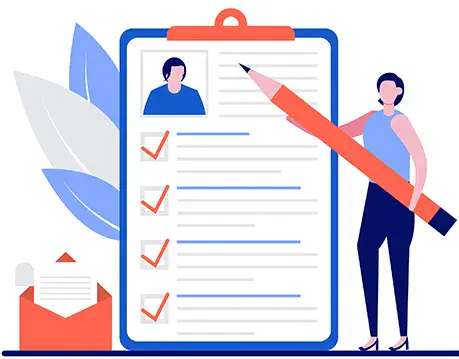 1
Add

Prescriptions

Through the customers' app, users will be able to upload their e-prescriptions as well as screenshots of on-paper prescriptions. The app will automatically send alerts to nearby pharmacy stores and they'll get back to the customers with the availability status of the particular medicines. Users could also save e-prescriptions for their profile and the app will send monthly alerts so that they can order the required medication on time.
2
Search

Filters

While looking for certain medicines, users could apply dedicated filters to find medicines with the right chemical concentrations. Consumers can also apply advanced filters to specify the radius within which they want to find the pharmacy shop, preferred pharmaceutical company, and the price bracket. This will help them find the most suitable medicines without having to stand in long queues of the pharmacy store.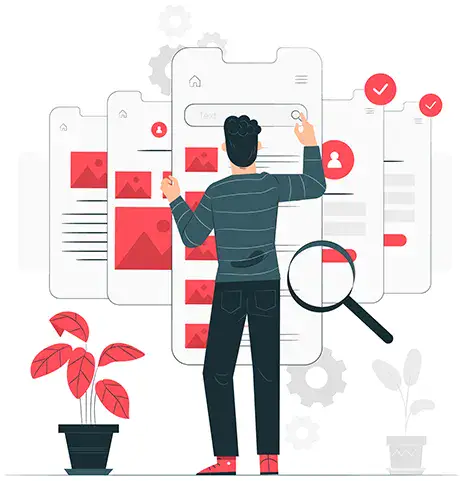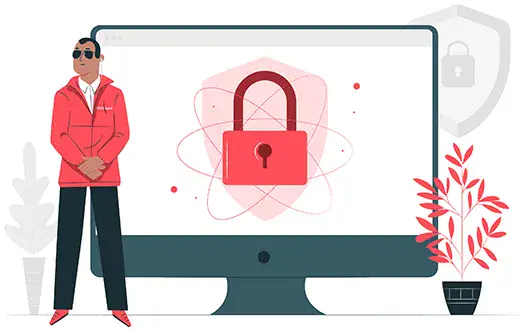 3
HIPAA

Compliance

Our pharmacy solution strictly adheres to the HIPAA guidelines to ensure an exchange of information between the consumers and the pharmacists is secure. Thanks to HIPAA compliance, patients' medical history stays secure all the time and no unauthorized users could access it whatsoever.
4
Alternate

Medicine Suggestions

In case none of the nearby pharmacy stores has the desired medicines a user is looking for, the app will automatically display alternative suggestions that contain the same chemical composition and salt concentrations.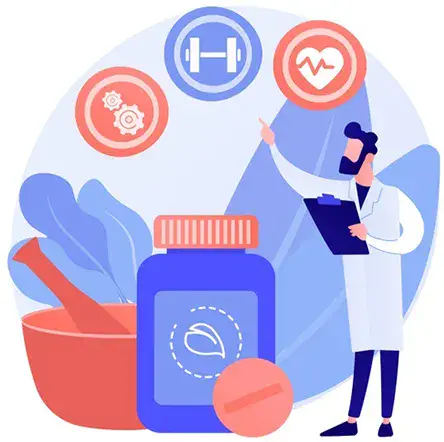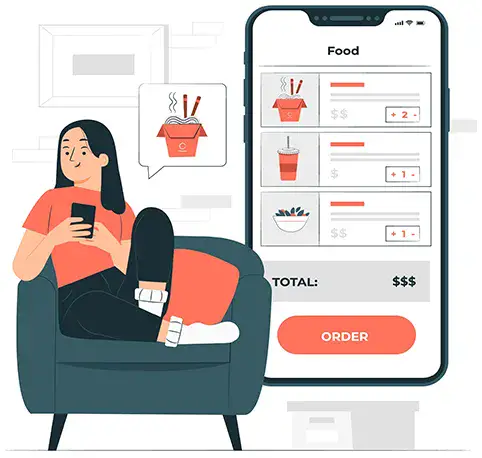 5
Order

Management

Both customers and pharmacists can use their dedicated portals to manage all their orders in one place. While users would be able to check the real-time progress of their order, pharmacists will get notifications for new orders, respond to order requests, and check the payment status of each order in an easy-to-use admin panel.
6
Track

Orders

With dedicated Google MAPs API integration, users would get the real-time location status of their orders. The app will also share the delivery agents' details with the customers so that they could contact the agent anytime and get instant order updates.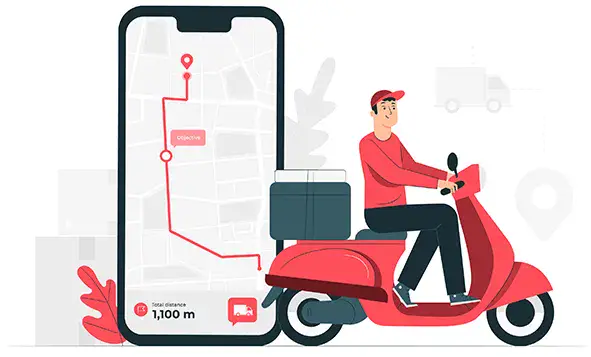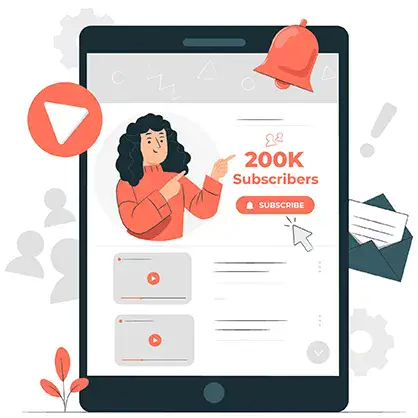 7
AR

Support

Our pharmacy solution also boasts Augmented Reality (AR) support. By pointing the device's camera towards a medicine box, users would get instant insight into the chemical composition, salt concentration, and even its top applications. By scanning the box, users could also check its availability status in the nearby pharmacy shops.
8
Medication

Reminders

Leverage Push Notifications to send monthly medication reminders to customers so that they can stock up all the necessary medicines on time. You can also configure push notifications to remind users about the latest offers and discounts.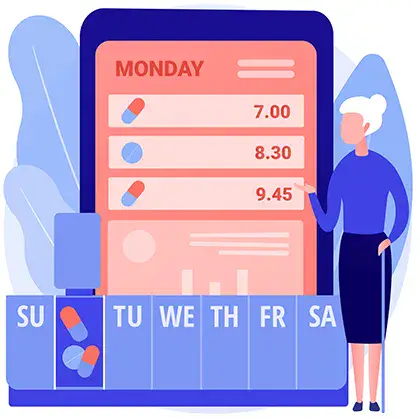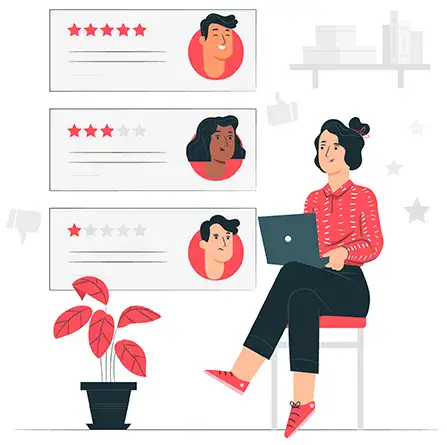 9
Pharmacy

Store Reviews

Based on their shopping experience, customers can leave reviews and feedback for a particular pharmacy shop so that other consumers could decide if the customer services are worth their money or not.
What Makes Our

Pharmacy Solution Compelling?
RV Technologies is a pioneer in bringing innovative solutions to the market and our pharmacy app is an example of the extensive success of our organization. With experienced end-to-end pharmacy app developers, we have devised a stand-alone solution that offers a seamless user experience and helps customers order medicines without leaving their houses.

Faster Time-to-Market
With our ready-to-launch pharmacy solution, you won't have to wait for several months to step into the digital landscape. Even if you want to customize the app by tweaking its UI or integrating third-party APIs, you'll be able to launch the product within 2-3 weeks.

Affordable Cost
As opposed to end-to-end pharmacy app development, choosing a ready-to-use pharmacy app will not put a burden on your pocket. Our pharmacy solution is available at a pocket-friendly price, even if you want to customize it to meet your specific business requirements.

Easy Customization
Full-customization support is the biggest USP of our ready-to-market pharmacy solution. Being open-source, you can modify the source code whenever you want to add new features. You can also add new modules, integrate third-party APIs, and adjust the overall app layout to step into the market with a custom pharmacy solution.

Multi-Language Support
Want to launch a feature-packed pharmacy app across different countries? With multi-language support, users can configure to access our pharmacy solution in their native language. We have integrated dedicated language packs to ensure that the end-users can access all the features of the app easily.

Security-First Approach
To ensure our pharmacy solution offers a completely secure experience to the end-users, our developers have utilized DAST and SAST testing methodologies to evaluate all the security vulnerabilities and eliminate them to provide complete security.

Regular Support & Maintenance
Once the product is delivered successfully, our development team also offers regular support & maintenance services to remove potential bugs that may ruin the user experience. Based on the users' feedback, our developers will further integrate new features to optimize its performance and deliver the desired functionality.
Why Choose
RV Technologies?
You're in
good company

. Our customers love

♥

us.
I've had a long-term working relationship with RV Technologies and I am delighted to say that all the work they have delivered has been to the highest standards. Looking forward to working with them again.

Laura Husson
CEO, LauraHusson.com, United States.
I have hired RV Technologies to work on different projects. The development team has always shown dedication & persistence even while dealing with difficulties. Thanks to RV Technologies, I've been able to focus on my core business objectives.

Joshua Howell
Director of Marketing, Generations Hospice Care
We're
recognized

by some of the

best in the industry

.
Q. What is the Standard Time-to-Market for Your Pharmacy App?
With our ready-to-go pharmacy solution, you'll be able to launch the final product within 1-2 weeks. However, if you plan to customize its features, change the layout, or integrate new APIs, the time-to-market could also increase up to 3-4 weeks. In any case, however, our team will follow a time-tested approach to ensure you can deploy the final product at the earliest.
Q. How Much Does Your Pharmacy App Costs?
As an offshore Pharmacy app development company, our team has built an affordable pharmacy app that costs a fraction of full-scale app development. With our ready-made pharmacy solution, you'll be able to launch a custom product without burning a hole in your wallet. Even with app customization and third-party integrations, our pharmacy solutions will be available at a pocket-friendly price.
Q. Is Your Pharmacy App Compatible With Both Android and iOS?
Yes, we have devised a cross-platform pharmacy solution that offers the same functionality and user experience on both Android and iOS.
Q. Who Will Own the Source Code of the Pharmacy App?
After the final deployment, our team will transfer the entire ownership of the app to your end. However, if you avail our post-development maintenance services, the developers at RV Technologies will tweak the source code to make essential changes so that your app delivers a user-centric browsing experience.
Q. Can You Develop a Custom Pharmacy App from Scratch?
Apart from the ready-to-use pharmacy solution at RV Technologies, you can also choose our end-to-end pharmacy app development services to build a custom pharmacy app from the ground up. Our team will perform a detailed business analysis to evaluate the brand objectives, potential challenges, and build a custom development strategy accordingly.