Why is
ReactJS Development Services

Best for Front-End Development

ReactJS is a JavaScript library that's widely popular in the development community for building scalable web applications. As of 2021, ReactJS is backing the UI of nearly 1.1 million websites. The reason why ReactJS is preferred by many developers for frontend web development is its flexibility.

ReactJS can be used to build visually engaging UI for both mobile and web apps. As opposed to other JavaScript-based technologies, ReactJS is not a framework and that's why it gives designers the liberty to unleash their creativity and craft engaging UIs for different platforms.
As a professional ReactJS development company, RV Technologies offers full-scale ReactJS development services to serve modern-day business requirements and help brands engage their valuable customers. Whether you want to launch a single-page dynamic web application or a fully-functional online portal, our dedicated ReactJS developers will analyze your brand objectives and craft the best web solution accordingly.
Build Dynamic Web Apps With Our Full-Scale
ReactJS Development Services
Being a JavaScript library, ReactJS offers unparalleled flexibility. Apart from traditional web applications, ReactJS can also be used to build other digital solutions including mobile apps and desktop applications. Considering the vast implementation of ReactJS, our developers offer a wide range of ReactJS development services to help businesses launch personalized digital solutions and stay in the lead. Our ReactJS development services include: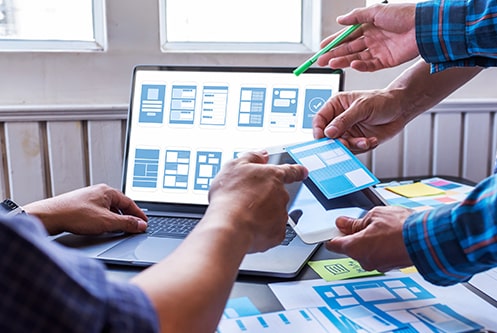 1
UI/UX Development
Build interactive User Interfaces (UIs) for your mobile and web applications to enhance their overall user experience and make it easier for the end-users to navigate through different features.
2
ReactJS Front-End Development
We build a visually engaging front-end for both static websites and dynamic web apps. Features like code reusability and Virtual DOM ensure fast front-end development and reduced time-to-market.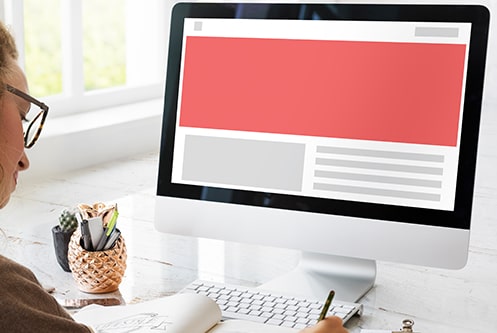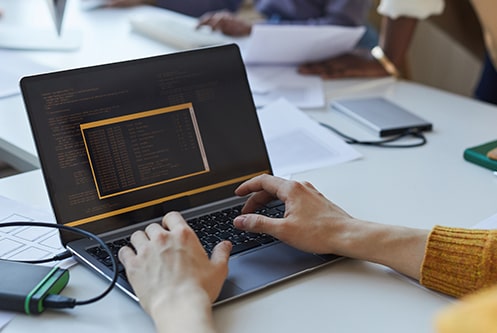 3
ReactJS Migration
We make ReactJS migration a hassle-free task for businesses so that they can keep their core business operations running. Our team will migrate your existing website or web app to ReactJS and you'll be able to unlock all the benefits that come along with the migration.
4
ReactJS Mobile App Development
Step into the app market with a feature-rich cross-platform mobile application that offers better user engagement and makes it easier to turn one-time customers into long-term valuable clients.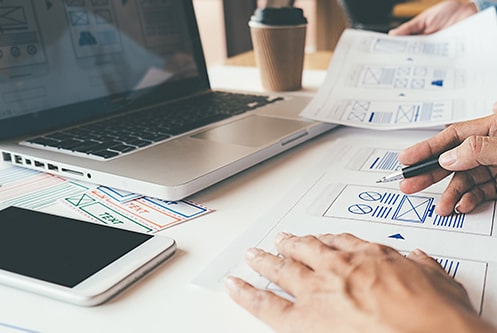 An Insight into Our
ReactJS Development

Mobile and Web Apps
Planning to
hire an ReactJS Development company?

Read these FAQs.

Still can't decide if ReactJS development services are the right approach for your web/mobile solution. We have addressed some of the most common questions about ReactJS development. These questions will clarify your doubts and allow you to decide if you should choose ReactJS development or not.
Can You Name Some of the Top Applications Built Using ReactJS?
ReactJS is an extremely versatile JavaScript library. In addition to building scalable web apps and websites, ReactJS development services can also be used to build engaging UIs for mobile apps and develop single-page websites. Since ReactJS allows developers to reuse the components for different projects, the overall development time decreases, and businesses can launch their products at the earliest.
Does Your ReactJS Development Services also Include ReactJS Migration?
Yes, it's possible to migrate an existing web application to ReactJS. At RV Technologies, we have tailored comprehensive ReactJS development services that even include ReactJS migration. This way businesses can switch to React and relish the benefits of a modern-day Javascript library.
Do You Offer ReactJS Development Services for Startups and Small Businesses?
Indeed! As a professional ReactJS development firm, RV Technologies serves a wide range of businesses, starting from large enterprises to startups and SMBs. All our ReactJS development services are completely affordable, which means you'll be able to launch a dynamic web application and reach your potential customers without burning a hole in your pocket.
How Can I Hire Your ReactJS Development Team?
To hire our ReactJS web development team, all you have to do is share your project details (scope and goal) with our developers and they'll get back to you with a custom plan to bring your idea to reality.
How Much Does ReactJS Web Development Cost?
ReactJS development is an affordable investment for any business, even if they want to develop a fully functional website. However, the exact cost to develop a website or web application using ReactJS mainly depends on different factors such as project complexity and features one needs to integrate into the product.