Help Patients Find Nearby Medical Services Conveniently With
Our Custom Healthcare Solution
Virtual medical assistance is the next big thing in the healthcare industry. Since people still hesitate while visiting the Emergency Room or healthcare clinics, thanks to the COVID outbreak, it's no surprise that the demand for on-demand healthcare solutions is increasing rapidly.
If you also want to grow your healthcare business, joining hands with our healthcare app development company will help. We have built a ready-made healthcare platform that'll allow patients to access all your medical services right on their smartphones. Our healthcare app developers have integrated multiple features to bridge the gap between doctors and patients, allowing them to stay connected remotely.
Whether someone is looking for a nearby physiotherapist or a cardiologist, our healthcare app will make it easier for users to find the desired healthcare experts more conveniently. With advanced search filters and easy-to-navigate UI, our healthcare application development practice will ensure that users can find nearby doctors, browse through search results, and book appointments with zero hassle.
A Sneak-Peek Into Our HIPAA-Compliant
Healthcare Solution
RV Technologies is a pioneer in launching user-centric mobile solutions for different industries. Our healthcare app solution is an all-in-one platform that's tailored to help healthcare providers offer their services remotely while making it easier for patients to find nearby healthcare services. As one of the industry pioneers, moreover, our healthcare solution complies with the HIPAA guidelines and ensures to protect the sensitive patient information all the time. Our ready-to-use healthcare platform has three different mobile apps for patients, healthcare professionals, and the hospital/clinic.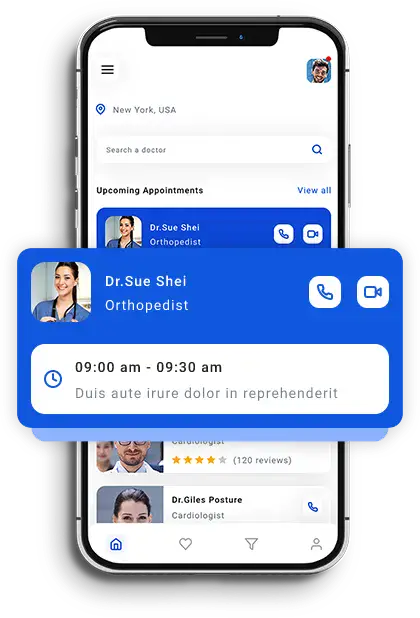 Patient App
Give patients an easy-to-navigate UI where they could find
nearby healthcare professionals, make appointments, and
manage their monthly medical bills easily.
Appointment Scheduling
Multi-Payment Support
Video Conferencing
Daily Reminders & Push Notifications
In-App Chat Support
Wearable Integration
Daily Health Monitoring
Request Free Demo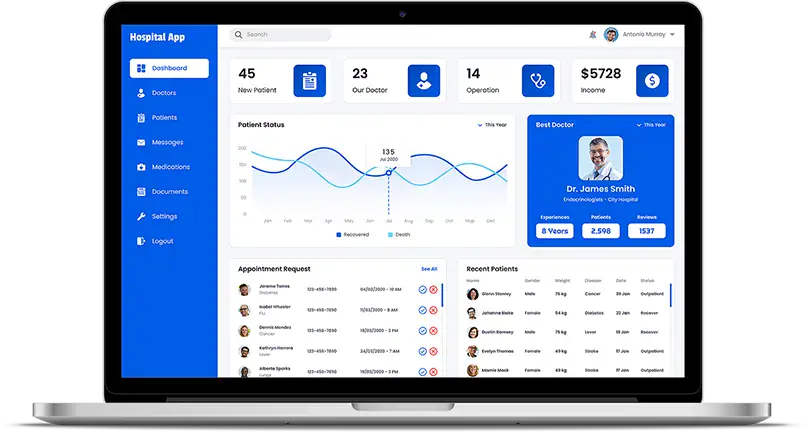 Hospital Admin Panel
With a fully functional admin panel, your hospital/
clinic's administration will be able to manage doctor
profiles and secure patients' data as well.
Profile Management for Doctors
Patient Management
Daily Attendance Record
Inventory Management
Payment Support With Bank-Payouts
Monthly Analytics
Request Free Demo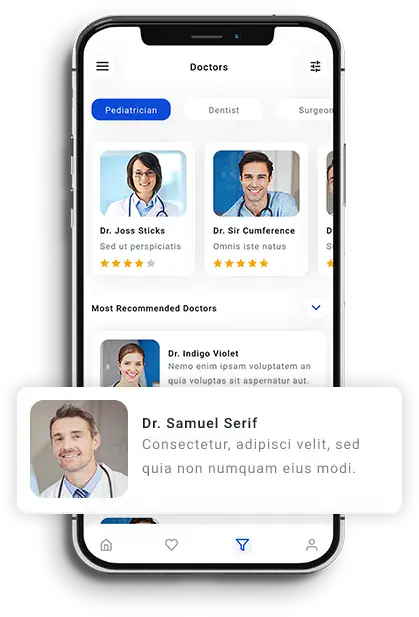 Doctor App
Let the healthcare professionals at your clinic manage their appointments and cater to emergencies in a hassle-free manner.
Doctor Profile Setup
Daily-Appointment Management
Video Conferencing
In-App Chat Support
Emergency Alerts
Reviews and Feedback Management
Built-in Payment Support
Request Free Demo
Get a Customized Healthcare Solution For Better Customer Acquisition
While crafting our ready-to-use healthcare solution, our developers have followed development practices that make it highly customizable. From adding new layouts to building APIs for third-party app integrations, our healthcare solution will allow you to explore different customization options and get a bespoke product that caters to your individual business requirements and gives your brand a unique identity in the market.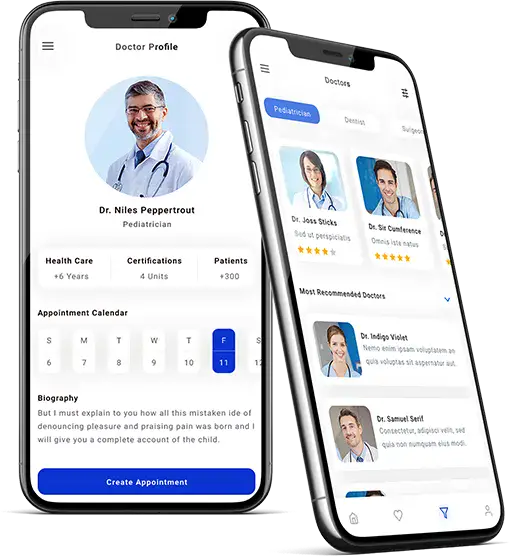 Get Your Healthcare App Solution
Salient Features of Our Custom
Healthcare Solution
Over the years, our healthcare application development teams have worked on several healthcare, medicine delivery, and traditional medical apps. With this on-demand healthcare solution, we have combined all the useful traits of different apps and built a comprehensive product that offers 24/7 medical assistance to patients while making it easier for healthcare experts to offer their services at the same time. Our healthcare solution complies with FDA, HIPAA, and HITECH guidelines and provides 100% confidentiality to protect vital patient information from third parties.
Some of the features of our on-demand healthcare solution include: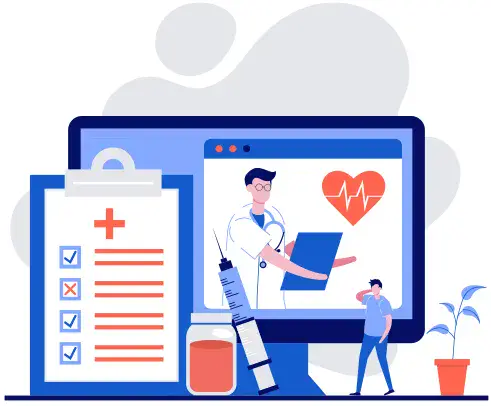 1
IOT-Based

Remote Monitoring

With wearables integration support, our healthcare solution allows physicians to remotely monitor the real-time biometric updates of their patients and diagnose their current condition from anywhere they want. Doctors can also access the previous health status of the patients in an easy-to-understand graphical interface to devise a personalized treatment accordingly.
2
Appointment

Management

Let customers find nearby medical services and book their appointments within a few seconds. With our full-scale healthcare platform, customers will be able to search for desired healthcare experts, check reviews, and book appointments within a few clicks. In case of emergencies, they could also cancel the appointment right from their mobile itself.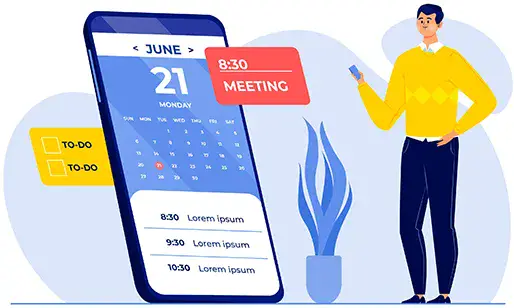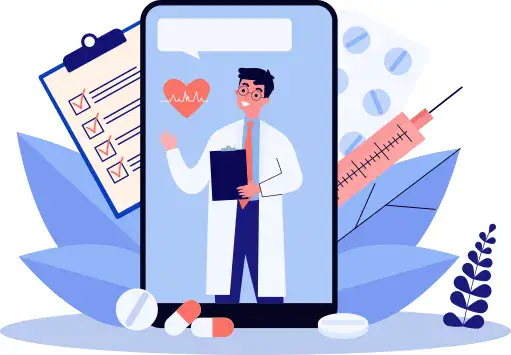 3
E-Prescriptions
With built-in chat and video-conferencing support, doctors can directly share e-prescriptions with their patients. As soon as a doctor prescribes medicines to a patient, the record will automatically get updated in his catalog and it'll become easier for future diagnosis. For better communication, the patients will also receive a copy of the prescription at their registered email address.
4
Laboratory

Management

Manage the in-house laboratory at your clinic/hospital with the healthcare app itself. With a dedicated laboratory tab, you'll be able to streamline complex operations of running a laboratory and share patient reports directly on the cloud. This way patients could access these reports from anywhere they want.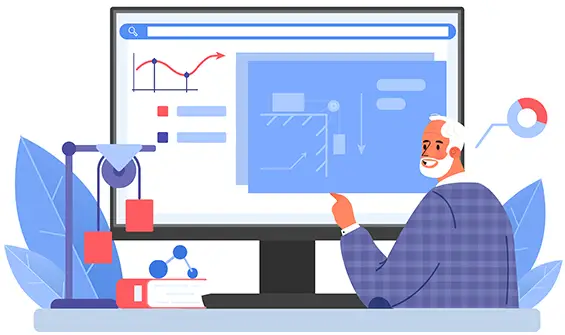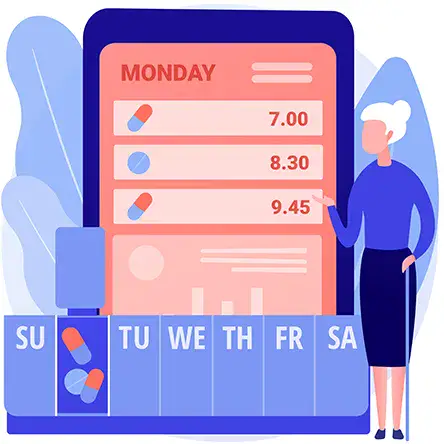 5
Pill

Reminders

With our healthcare solution, your patients will be able to take all the required doses on time. Based on their prescriptions, patients could configure the app to set dedicated reminders and receive alerts as soon as they need to take a medicine. Thanks to these reminders, your patients will never skip a medicine intake whatsoever.
6
mHealth

Records

To ensure your patients and staff can access their health records in a hassle-free manner, our developers have integrated cloud support in the healthcare solution. It doesn't matter which device the patients or doctors are using to run the healthcare app, they'll be able to fetch data from a centralized server within a few seconds.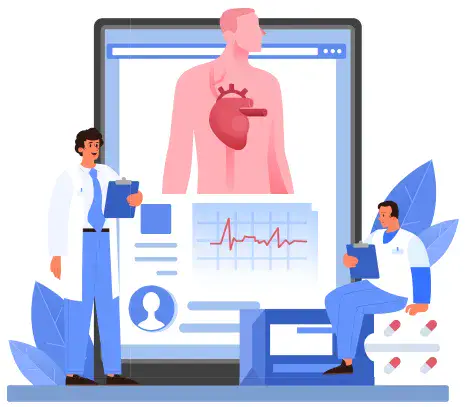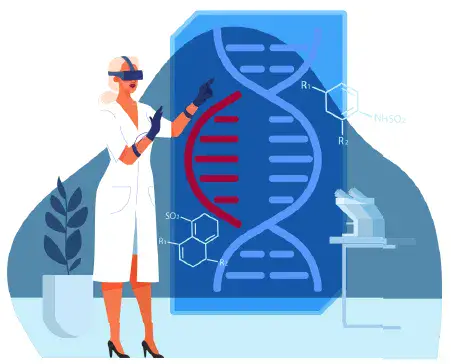 7
AR

Integration

Augmented Reality is on the rise and it has diverse applications in the healthcare industry. We are well-familiar with the significance of AR in healthcare and that's why our healthcare solution comes with exclusive AR support. In case of emergencies, our healthcare solution will help people find directions to the nearby ER rooms by simply pointing their phone's camera towards the street.
What Makes Our
Healthcare Solution Compelling?
On-demand mobile solutions are becoming more and more popular every day. As opposed to full-scale app development, on-demand solutions have a low waiting period and can be deployed within a few weeks (instead of several months). At RV Technologies, our on-demand healthcare solution is designed with a vision to help healthcare service providers cater to different patient requirements virtually. Our developers have integrated features that make it easier for both doctors and patients to stay connected and make mobile healthcare more convenient.

Faster Time-to-Market
With our ready-to-launch healthcare solution, you won't have to wait for several months to step into the digital landscape. Even if you want to customize the healthcare solution by tweaking its UI or integrating third-party APIs, you'll be able to launch the product within 1-2 weeks.

Affordable Cost
As opposed to end-to-end healthcare app development, choosing a ready-to-use healthcare solution will not put a burden on your pocket. Our healthcare solution is available at a pocket-friendly price, even if you want to customize it to meet your specific business requirements.

Easy Customization
We understand that each healthcare business has different goals. That's why our developers have built a highly scalable app that can be customized further to match your brand's online identity. You can integrate third-party APIs to add new features to the app and give a personalized browsing experience to the users.

Multi-Language Support
Want to launch a feature-packed healthcare app across different countries? With multi-language support, users can configure to access our healthcare solution in their native language. We have integrated dedicated language packs to ensure that the end-users can access all the features of the app easily.

Security-First Approach
To ensure our healthcare solution offers a completely secure experience to a healthcare service provider and patients, our developers have utilized DAST and SAST testing methodologies to evaluate all the security vulnerabilities and eliminate them to provide complete security.

Regular Support & Maintenance
Once the product is delivered successfully, our development team also offers regular support & maintenance services to remove potential bugs that may ruin the user experience. Based on the users' feedback, our developers will further integrate new features to optimize its performance and deliver the desired functionality.