Overview
Want Wire is a one-of-a-kind social media platform where brands can connect with their customers and receive real-time anonymous feedback to improve their services. In today's competitive market, it has become more important for businesses to act upon customer feedback and optimize their operations to cater to specific user requirements. Not only does this help in better user retention but listening to customers' feedback also puts brands ahead of the curve. Today, Want Wire has helped many businesses connect with their customers more effectively.
However, Want Wire hasn't always been a successful business model. A few years ago, it was just a brainchild of one of our clients and they were looking for a team of professional developers who could bring it to reality. After interviewing many development firms and independent developers, Want Wire's management team came across RV Technologies' profile on Clutch. A strong portfolio and the positive feedback from our previous clients gave Want Wire's team enough evidence to hire RV Technologies as their development partner.
So, after quickly validating the app idea and running quick market research, the development team at RV Technologies devised a custom development strategy to bring Want Wire to reality.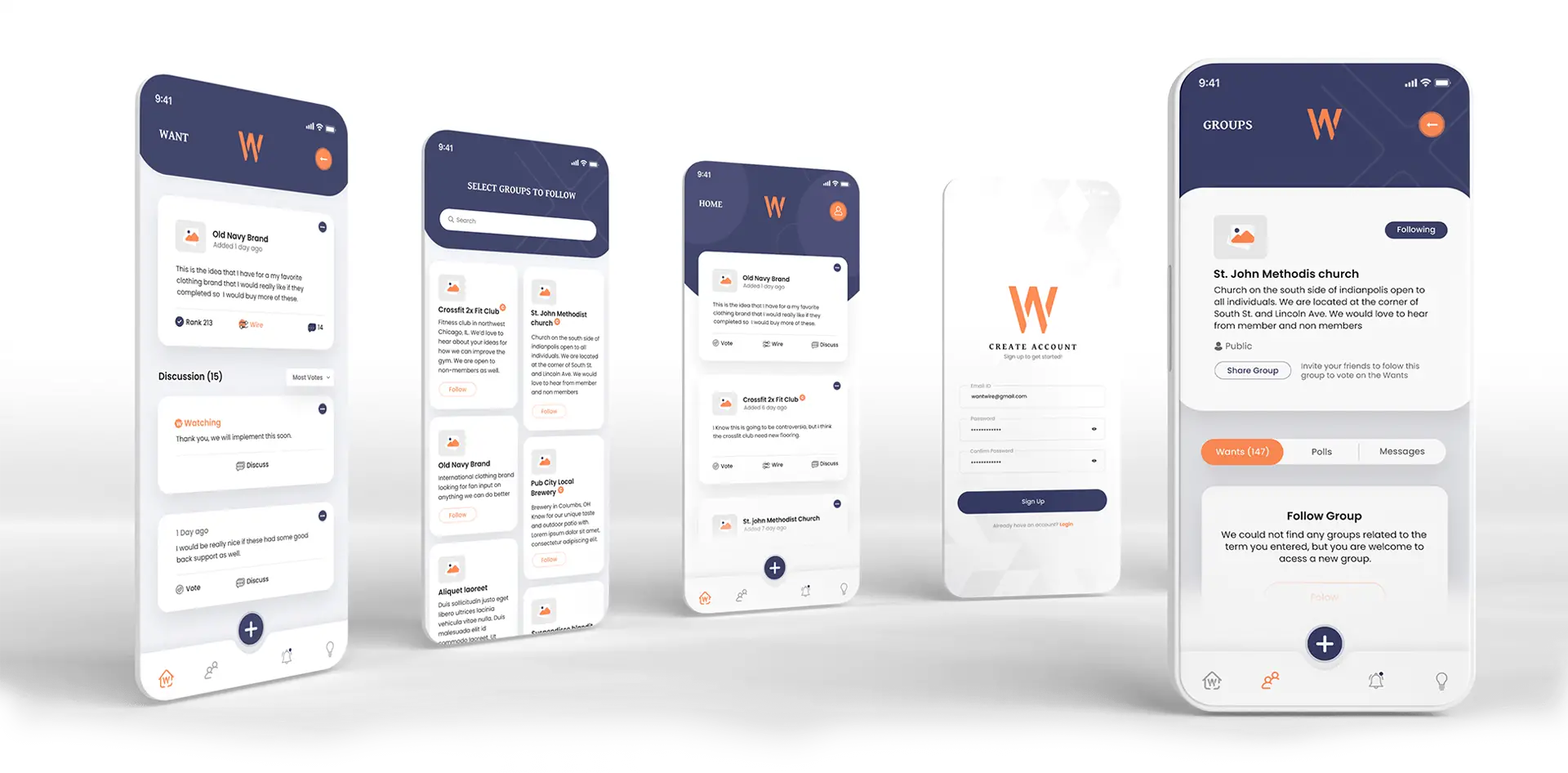 Challenges
The primary objective with Want Wire was to develop a platform where consumers could join dedicated groups and create posts - known as "Wants" - regarding a particular product or organization.
The other group members could either "Vote" the post or "Wire" it to another group. Wiring means that posts will automatically get shared with the selected people and they'd be able to Vote or Wire it as well. The management team at Want Wire also needed a full-scale admin panel to easily monitor their customer acquisition and get detailed analytics regarding new business/customer sign-ups.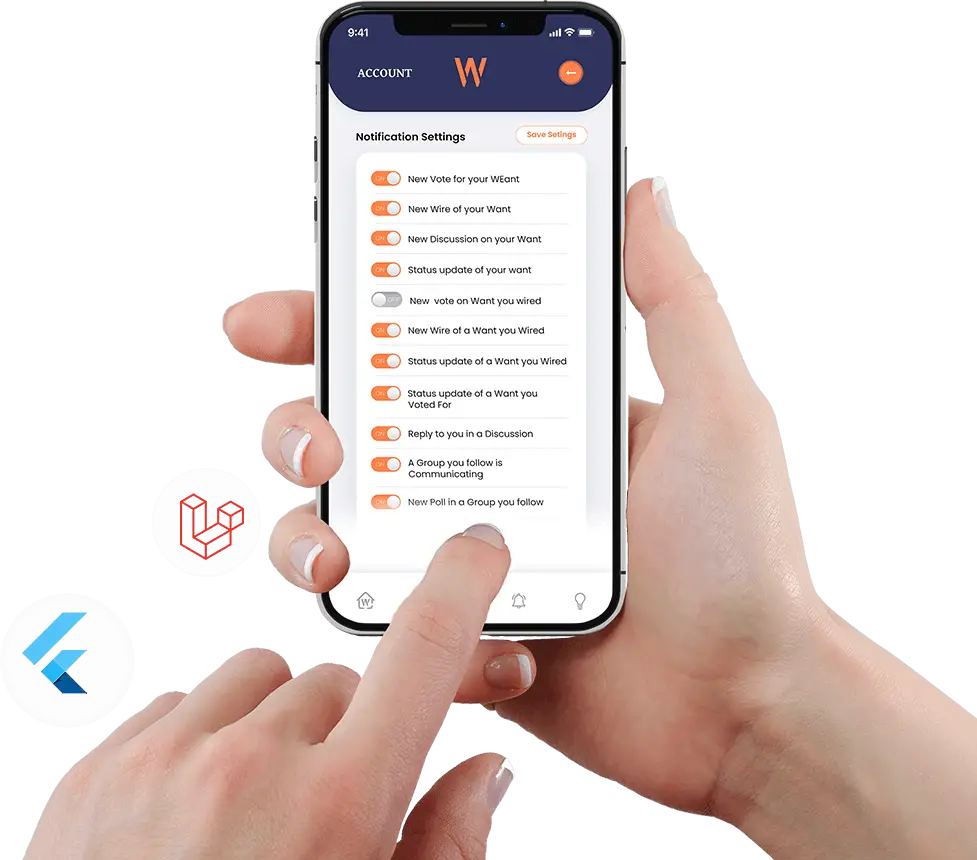 Solution
Building an Easy-to-Navigate Social Media Platform Where Customers Could Easily Give Feedback to Different Organizations.
Since Want Wire was projected to be packed with an array of features, it was crucial for our team to prioritize the app's user-friendliness. Our team understood that having too many features can clutter the entire user interface and interfere with the browsing experience. So, before everything else, our designers started with crafting the initial layouts for different modules. We decided to design an easy-to-navigate user interface with a dedicated navigation bar at the bottom. The navigation bar contained quick links to all the major modules of the application. Once the design was ready, our developers finalized the features and started working on the backend. The major features of Want Wire's mobile app include:
Latest Feeds
Post New 'Wants'
Payment Gateway Integration to Support In-App Purchases
Business Polls
Features
1

User Feed

The User Feed is where all the action happens. Here people can see new posts (wants) from their connections and groups. They can react to each of these posts individually by tapping the "Vote" button or directly share it across other groups by clicking the "Wire" button. In addition to these options, each post has a dedicated "Discuss" button that allows users to start a discussion on a particular topic. Users can also filter their feed by choosing one of the three parameters - "Most Votes", "Latest", and "Trending".
2

Join New Groups

Right next to the "Home" button on the navigation bar, we placed the "Groups" option that takes users to the list of groups they have joined on the platform. From the "Groups" tab, users can also join new groups or start a dedicated group of their own. When users click on the "Wire" button on a particular "Want", the app automatically chooses random users with whom it should be shared.
3

Share Posts

Like any other social media platform, we decided to add a dedicated "Share" button that would allow users to share posts and groups with other people across different platforms. As soon as a user clicks on the "Share" button, a pop-up appears on their screen where they can select the platform where they want to share the particular post or group.
4

Create Polls

Users can also create polls to get feedback from other people on a particular topic. They can add multiple options for each question and ask other users to share their opinion. Based on the poll's results, users can then make their decisions accordingly. Like the regular posts, the polls also appear on users' Want Wire-feed where they can directly choose their response.
5

In-app Purchases

Want Wire also wanted to run a subscription model on their platform. To enable this functionality, our team integrated a dedicated payment gateway that ensured 100% secure monetary transactions. The payment gateway offers multiple payment methods, allowing consumers to buy the subscription model using their preferred payment solution. Users can also set up autopay for their monthly subscription, which will protect them from going through the same hassle every month.
Results
A Cross-Platform Mobile App that Allowed Brands to Nurture Better Customer Relationships.
Within a few weeks, our developers managed to build a successful cross-platform mobile solution for Want Wire. Today, Want Wire has helped many businesses set up their profiles and get real-time customer feedback. Even today, RV Technologies continues to offer regular maintenance services to Want Wire to integrate new features that keep the users engaged.