Earlier, getting ground news updates was a tedious process. Our parents and grandparents had to wait for newspapers, tune into the radio, or switch on the television to get news updates from across the globe.
They had to wait for an entire day to get information. If the newspaper delivery guy was ill, the radio broke, or the TV's satellite connection was weak, they would miss out on the news broadcast.
They, then, either had to wait till things got sorted or resort to other methods like asking the neighbors for newspapers or going to their homes to watch the news broadcast on television.
However, in this fast-paced and digital era, you're lucky. You don't have to depend on slow-paced and unreliable methods to get news.
Thanks to smartphones and the ever-availability of the internet, you can get access to the best news apps at your fingertips through smart news apps.
Moreover, the best news app provides real-time news updates so that you never miss out on important information.
In this blog, we will take a look at the ten best unbiased news apps for 2023 you can easily download the best news app for Android or smart news apps for iOS and stay updated to know the best news app in the world.
Below are the statistics related to every best news app that is mentioned in this blog
1. BBC News App 
Android Rating: 4.1 (428k Reviews)
iOS Rating: 4.6 (69.4k Reviews)
The BBC News app is the best news app available for Android and iOS devices. Users can also download and use this best free unbiased news app on their tablets and other smart devices. BBC News app is known as the best unbiased news app
The BBC news app was developed by the British Broadcasting Company, which is one of the oldest and most popular news networks across the globe.
This unbiased news app for Android provides users with the latest news updates in textual and video formats on-demand.
This unbiased news app has the best of journalism in one place and provides everything in a crisp, clear, and compiled format.
Features of the BBC News App
1. News stories are updated on this smart news app within seconds of being delivered to the newsroom.
2. Live streaming of the BBC news channel within the smart news app.
3. Breaking news information is provided to users through notifications.
4. Provides personalized feed with the 'My News' section so users can quickly read news they are the most interested in, such as finance, sports, and global politics, to name a few.
Download BBC News App
Google Play Store | Apple App Store
2. Google News App
Android Rating: 4.1 (1.78m Reviews)
iOS Rating: 4.5 (3.6k Reviews)
The Google News App is one of the best free unbiased news apps if you are looking for a more personalized news reading experience. Google smart news app is also an unbiased news app
This best news app uses the advanced Google algorithm and user data to provide a news feed that matches the readers' interests and hobbies.
The news app shows local, national, and international news from various domains such as sports, politics, weather updates, eCommerce sales and discount alerts, new product news, and others based on the reader's preferences.
Key features of the Google News App
1. Receive real-time news updates from local, national, and international events.
2. The 'For You' tab provides news information that interests the reader the most.
3. Subscribe to specific news sources to get news delivered directly within the app.
4. The 'Headlines' tab provides a single, simplified view of all the top news stories from across the globe.
Download Google News App
Google Play Store | Apple App Store
3. Apple News App
Android Rating: Not Available on Android
iOS Rating: 4.6 (635.7k Reviews)
The Apple News app is the best news app developed by the tech giant exclusively for Apple devices and is available for iOS, iPadOS, watchOS, and macOS systems.
What makes this the best news app is that it is simple to use, provides a news feed curated to reader preferences, and ensures a satisfying user experience that is associated with other Apple products and services.
According to Apple, this is a free news app but to read premium content you need to have a subscription to Apple News+. For $9.99 per month, users get access to content from over 300 magazines and selected newspapers.
Users can also listen to audio versions of news stories, similar to listening to a podcast.
Features of the Apple News App
1. Easy-to-use interface.
2. Delivers news stories from various categories, publishers, and genres.
3. Apple News+ subscription available that provides additional features.
The only con of this is the best news app for iPhones that is available only for Apple users. If you are an Android user, then, unfortunately, you can't download and use this best news app.
Download Apple News App
Apple App Store
4. Feedly
Android Rating: 4.1 (311k Reviews)
iOS Rating: 4.6 (805 Reviews)
Feedly is one of the most popular and best news apps for Android as well as iOS users.
This best news app provides updates from various publications, YouTube channels, blogs, and other sources through a simple RSS feed.
Users can receive personalized feeds regarding topics that interest them the most. They can also use the Discover tab to find news and trending news.
Moreover, users can also save their favorite articles to read later with the bookmark option.
However, the amazing feature of this best news app, in our opinion, is the easy integration with other news apps.
Feedly can be easily connected with Facebook, Evernote, Pocket, LinkedIn, Twitter, Pinterest, and others, to name a few.
Key Features of the Feedly News App
1. Personalized news feed.
2. Easy, straightforward, UI and UX.
3. Seamless integration with multiple channels.
Download Feedly News App
Google Play Store | Apple App Store
5. Flipboard
Android Rating: 3.9 (1.43M Reviews)
iOS Rating: 4.7 (20.3k Reviews)
Flipboard is another best unbiased news app considered one of the best news app by critics and users alike. As the name suggests, this free news app enables users to 'Flip' news stories and other content.
This news app is largely popular for its intuitive, engaging, and simple interface. The news updates are accompanied by stunning visuals, including pictures, videos, infographics, etc. This elevates the user experience significantly.
Users can also be connected to social media sites like Twitter and Instagram to stay connected.
Features of the Flipboard News App
1. Appealing UI with plenty of photos, videos, infographics, and whitespace to give a pleasing reading experience.
2. Provides news from various sources and shows a variety of content.
3. Real-time streaming lets users watch their favorite events live.
4. Customizable feed.
Download Flipboard News App
Google Play Store | Apple App Store
6. Reddit
Android Rating: 4.2 (2.81M Reviews)
iOS Rating: 4.8 (46.1k Reviews)
Reddit is generally known as a forum and social media site, with Redditors popular for creating and sharing GIFs and memes. However, the Reddit app is much more than that.
Users can find tailored news that fits their preferences with the Reddit app. They can also share their thoughts and opinions regarding different news stories with other users.
Similarly, they can also read the opinions of other users on the same.
As we all know, Reddit uses an upvote system that promotes content that matters the most. Thus, you can see the stories that matter to you the most.
Reddit is a free-to-use smart news app. However, you can also buy a premium subscription for $6.99/month. The premium membership removes ads and provides access to the r/lounge.
Features of the Reddit App
1. Customized content based on user preferences.
2. Upvote a system that promotes relevant information.
3. Chat and build relationships with other Reddit users.
4. Find all the information in one place, from breaking news to cute viral cat videos.
5. Share your thoughts and opinions on subjects that matter to you.
Download Reddit App
Google Play Store | Apple App Store
7. Digg
Android Rating: 2.0 ( 115 Reviews)
iOS Rating: 1.6 (585 Reviews)
Digg is the unbiased news app similar to other best news apps on this list like the Apple News app, Flipboard, and Google News app.
Digg is aimed specifically at the 'internet audience.' It displays stories and news articles majorly related to science, viral stories, political issues, technology, and others.
Digg's tagline is 'What the Internet is talking about.' It aims to deliver just that.
In addition to reading internet-popular news stories from around the world, users can also submit, comment, and vote for content they like.
This best news app can be easily integrated with social media platforms like Facebook and Twitter, allowing users to share content.
If you are more interested in reading internet-sensation stories over traditional news, you can download the Digg news app for Android and IOS devices.
Features of the Digg News App
1. Provides access to internet-popular news stories, videos, blogs, and other content.
2. Users can share their own content.
3. Ability to comment and vote for content.
4. Easy integration with social media platforms.
Download Digg App
Google Play Store | Apple App Store
8. Inshorts
Android Rating: 4.3 (562k Reviews)
iOS Rating: 4.5 (48.4k Reviews)
Inshorts is the Twitter of smart news apps. It provides the best and most recent news stories in sixty words. Making it the best news app in 2023.
Thus, users can get the crisp and latest information that is easy and quick to read the news. The news app is best suited for today's fast-paced and short-attention-span lifestyle.
Users can choose the categories they wish to get updates on. These include sports, political news, business, and breaking news, among others.
Since it's an Indian news app, the app offers a news feed in English as well as the Hindi language, making it more accessible to the citizens of the country.
As per the website, the unbiased news app is among the best news app, with the highest ratings in the category on the Google Play Store. If you wish to read stories in an instant.
Features of the Inshorts News App
1. Short stories delivered in sixty words.
2. Customizable news feed.
3. Available in English and Hindi language.
4. News stories are classified based on locations.
Download Inshorts app
Google Play Store | Apple App Store
9. The New York Times News App
Android Rating: 4.3 (134k Reviews)
iOS Rating: 4.2 (35.4 Reviews)
The New York Times is one of the most reputed newspapers in the United States. Its legacy stands for more than a hundred years and is known for its record-breaking and award-winning journalism.
The smart news app is the digital version of the newspaper, providing readers with the highest quality of news reporting.
This best news app lets readers tap into expert coverage from over seventeen hundred journalists from one hundred sixty countries.
Users get access to news from sports, business, the stock market, breaking news, arts, technology, and other genres.
The New York Times is the best news app in 2023 with an average of 4.5/5 rating from over 131,000 users on the Google Play Store. 
However, the free version provides limited access to users. To get unlimited access to all content, readers can purchase a subscription.
Features of the New York Times News App
1. Access to award-winning journalism stories.
2. Offline reading access.
3. Simple and clean user interface.
4. Breaking news alerts and notifications.
Download New York Times App
Google Play Store | Apple App Store
10. News360
Android Rating: 4.3 (25.8k Reviews)
iOS Rating: 4.6 (12.2k Reviews)
News360 is a news aggregation platform that gathers news from a myriad of sources, over a hundred thousand to be exact, and presents them to the readers.
This best news app provides users with over a thousand topics to choose from.
The news app learns user preferences and suggests content that readers love. The free version of the news app, however, is filled with ads.
To remove them, users need to buy a premium subscription to this news app that costs $1.99/month. They can also opt for a yearly subscription.
While the number of news sources can feel exhausting to some, this news app has become a favorite among news enthusiasts.
Features of the News360 App
1. Newsfeed is provided from over a hundred thousand sources.
2. Customizable news feed.
3. Interactive and beautiful UI design.
4. Easy search feature.
5. Popular among newsreaders with a 4-star rating on Google Play and the Apple App Store.
Download News360 App
Google Play Store | Apple App Store
Conclusion
These were our picks for the top ten best news apps for 2023. Each of the best news apps has its own set of pros and cons.
That being said, each of the apps mentioned above provides high-quality news on various topics to readers in real time.
You can choose to download any one or multiple news apps based on your preferences.
From a design and development point of view, news apps are a breakthrough in mobile app development.
These news apps have significantly simplified and revolutionized the way news is delivered. People no longer have to wait for news or have to see unwanted and irrelevant news.
If you are looking to develop your own best news app, you can study the various news app mentioned here and take a page from them.
If you need further help with your news app development process, you can feel free to get in touch with us.
We have ample experience in mobile app development and can help you create the best mobile news app. So what are you waiting for?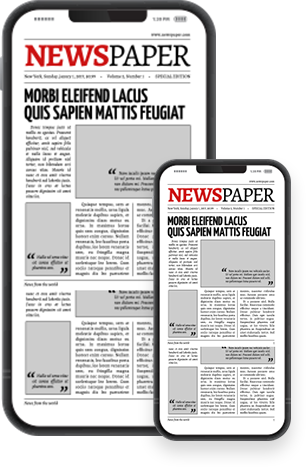 Create Your Own
News App - Empower Your

News Brand!
Ready to take your news brand to the next level? Fill in your details below, and our expert developers will reach out to you