Overview
After coaching many football teams over a timespan of 30-odd years, John Tomlinson wanted to share his wisdom and knowledge with aspiring football players in a more interactive environment
So, he decided to launch a mobile game that would help players (mainly quarterbacks) understand the different dynamics of their positions on the field and implement new tactics to secure a big win in every game. His primary goal was to help quarterbacks improve their decision-making on the actual field by reading the defense more effectively.
To bring his vision to reality, Tomlinson started looking for a reliable game development agency that had the potential to develop a first-of-a-kind "Football Tutorial Game" and deliver engaging gameplay to the end-users.
After scrutinizing the web for a while, John came across RV Technologies' profile and shared his idea with our developers. An hour-long interview and a few calls later, he hired RV Technologies as his remote game development team and thus began the journey of building Quarterback Equalizer - an innovative gaming solution to transform football coaching.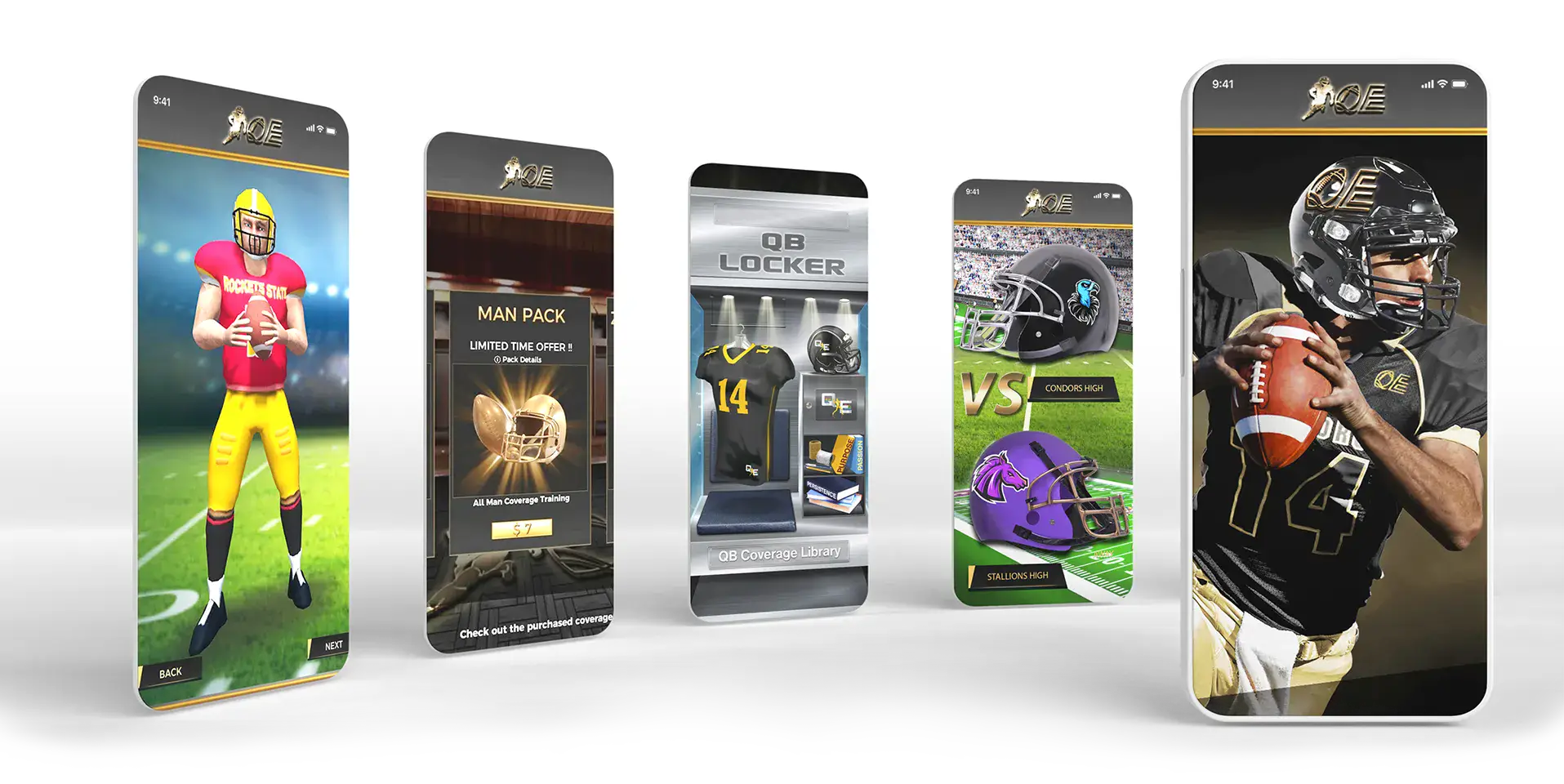 John aimed to help quarterbacks understand their positions precisely and improve their decision-making on the field. However, since there are only a few thousand quarterbacks in the world, we had to add features that would keep the gameplay engaging, even for a weekend warrior. Secondly, each player was likely to have a different skill level. So, our development team needed to create different stages with varying difficulty levels and keep the gameplay challenging for the players.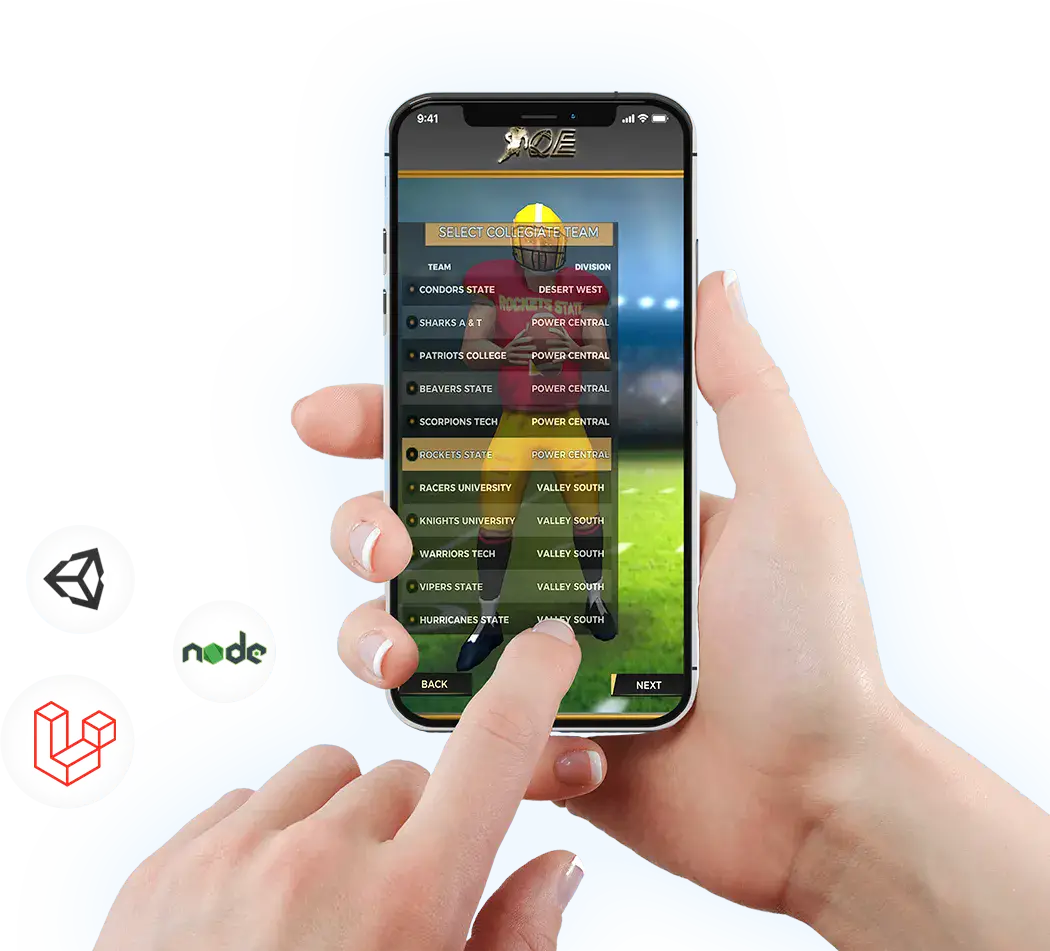 Solution
Could RV Technologies Develop a Visually-Engaging Football Game from the Ground-Up?
In a decade-long journey, we have been fortunate enough to work on projects that allow us to showcase our innovative mindset and a user-centric development approach. Being a distinctive idea, QB Equalizer gave our developers the opportunity to implement out-of the-box thinking and build a dynamic mobile game from scratch. To turn John's idea into a fully functional mobile game, we implemented the latest gaming methodologies and integrated multiple features to make the gameplay more enticing.
Three Different Modes
Season Mode
Quick Game
Virtual Coach
QB Locker
1

Three Different Modes

As soon as the users would launch QB Equalizer on their mobile, they'd be asked to select one of the three modes, i.e., high school (Rookie), college (Collegiate), and the professional level (All-Pro). All these modes have different gameplay speeds and coverage difficulties.

For instance, the Rookie stage has detailed tutorials to help users understand each element of specific coverage. With the All-Pro level, on the other hand, the defense becomes stronger and the player has to apply real-world tactics to carefully read the defense. Having three different levels made the game more engaging for players as they could work on their key skills.
2

Season Mode

Given that the game was primarily targeted towards 'quarterbacks', the development team built a dedicated 'Season Mode' where aspiring players could buy different coverages and get access to hours of video tutorials designed by John himself. If a player chooses the 'Season Mode', he'd be able to create his own team and lead it to victory.

To offer an easy transaction, we implemented in-app purchase support. This way users would be able to buy coverage plans directly using their Google account. The Season Mode was kept dynamic to ensure that the player gets relevant video tutorials according to the selected coverage.
3

Quick Game

To attract a wider audience, the developers also created a separate "Quick Game" module that would allow players to skip unnecessary tutorials and play different coverage formations immediately. So, even if someone's a non-football fan and only wants to enjoy quick gameplay, Equilalize Football Game won't disappoint him/her and offer an addictive gaming experience.
4

Virtual Coach

Through Virtual Coach, players could get access to all video tutorials that cover 24 different coverages. If a player signs up for the 'Virtual Coach', he would also get real-time feedback from the coach after each gameplay.

Consequently, he could work on his weak spots and implement all his knowledge during a real match. To make video tutorials easy to access, the development team integrated video-overlay support. So, players could watch a tutorial while accessing their own gameplay simultaneously.
5

QB Locker

With QB Equalizer, user-friendliness was the client's first priority. So, the development team built a dedicated QB Locker from scratch that would allow users to find all the purchased items. To drive better sales, the QB Locker also displayed items the player could buy. These suggestions automatically get updated based on the current items in the QB Locker.
The Testing Phase
Once we had integrated all these features, the Quality Assurance (QA) team took over the reins and ran different test scenarios to ensure everything was on the right track. As opposed to traditional mobile applications, games like QB Equalizer need to strictly adhere to the law of physics.
To do this, our testing team broke down the entire game into smaller testable elements and tested them individually. We utilized different testing methodologies including white-label testing and specification-based testing to test each module and implemented required changes to keep the user experience intact.
After the QA team gave a thumbs-up, we proceeded towards final deployment and released the game on both Apple's App Store and Google Play Store.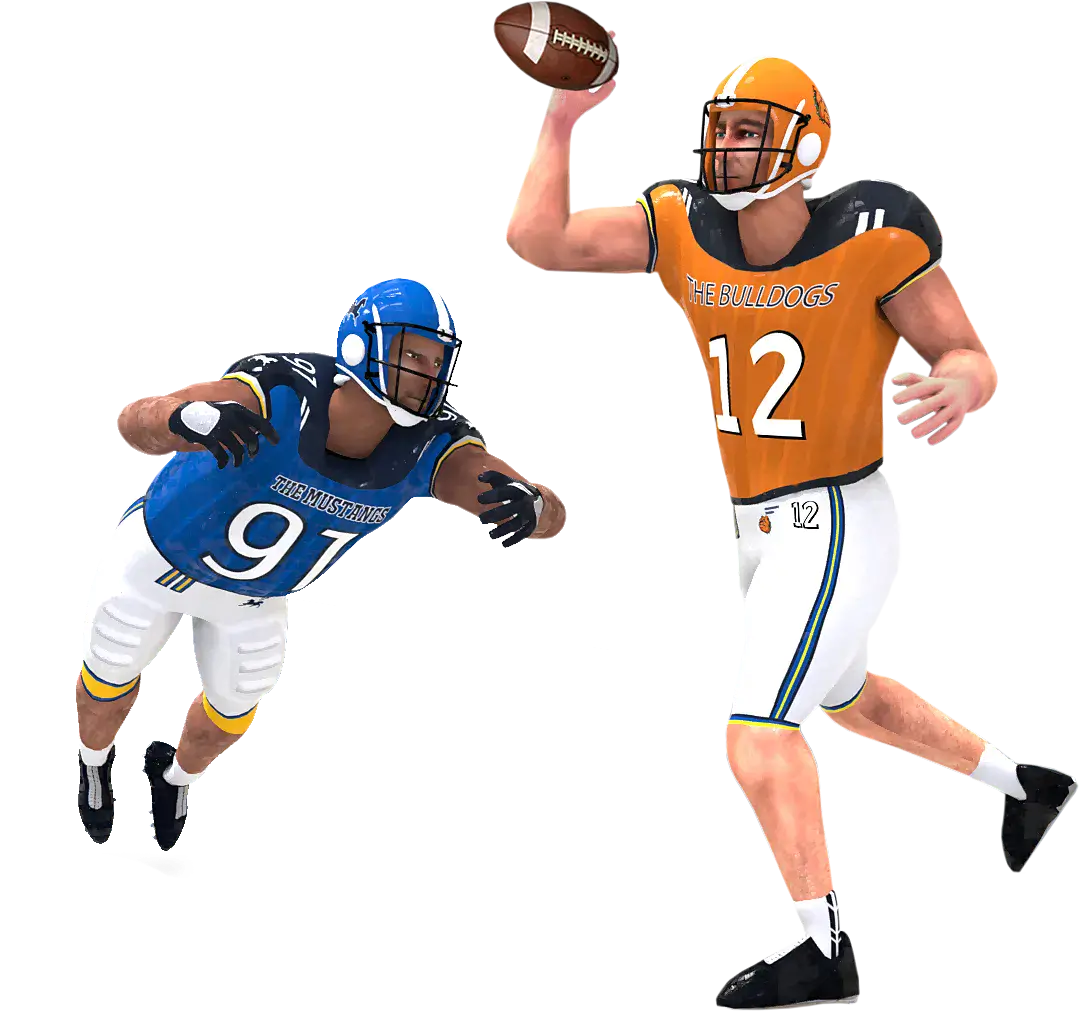 Results
Successful Deployment of an Action-Packed Football Game that Acquired a Massive Attention from Football Enthusiasts.
QB Equalizer has now become one of the most addictive football games for Android and iOS. The game has thousands of accumulative downloads on both platforms and has helped many Quarterbacks add new skills to their arsenal. Here are some of the reviews from customers who continue to fanboy QB Equalizer, even after six years of its deployment.
"As compared to any other football game, QB Equalizer gives a more realistic experience. Through its helmet POV, I get a 360-degree-view of the entire field, which makes the game more fun to play."
"The graphics are incredible! I have played many football games in the past, but QB Equalizer is on another level. Needless to say, it has improved my knowledge of different coverage positions in the game."