Overview
Contrary to ordinary belief, online dating is not a new concept. The first-ever dating platform - Match.com - was launched in 1995 and ever since many dating apps have germinated to help people find love on the Internet.
Apps like Tinder and Bumble are the modern-day versions of dating platforms that allow users to find new matches with simple right swipes. Unfortunately, there's a major issue with these platforms. Today, the majority of dating apps/websites struggle to validate user authenticity. Since millions of users sign up on these platforms, it's not an easy task to authenticate every user. That's why there are thousands of fake accounts on apps like Tinder and Bumble. These fake accounts ruin the entire dating experience for others who are truly seeking love and want to meet new people.
To overcome this challenge in the online dating world, our client came up with a unique solution. Her vision was to launch an online dating app where there would be no room for fake accounts and a dedicated 'Matchmaker' (a real person) would authenticate the user profiles as soon as someone creates a new account on the platform. The idea was to individually validate each profile so that users can truly meet new people and fall in love without getting catfished whatsoever.
To bring this idea to reality, Lady Matchmaker partnered with the development team at RV Technologies. Our team analyzed the entire business model and built a personalized development plan to build a cross-platform dating app.
Challenges
The primary challenge with Ladymatchmaker's business model was to develop a solution where it becomes easier for their team to validate each profile so that the end-users can enjoy the best dating experience.
To do this, we decided to create a separate Admin Panel for the matchmakers where they can process daily requests and ensure no fake profile goes through the system. Also, our goal was to keep everything simple and elegant so that users don't have to deal with unnecessary pop-ups, subscriptions, ads, etc. In simple terms, the goal was to help people find love in a simple manner.
Solution
Adding Two Membership Plans to Combine Online Dating With Professional Matchmaking.
Since Karolina - the mastermind behind Matchmaking - wanted to offer both online dating and professional matchmaking assistance to the users, we decided to add two separate membership plans. The regular membership plan - knowns as "Kiss" - would allow users to relish all the features of a regular dating platform. With the "Kiss" membership plan, users can swipe on another person's profile, chat with them, and establish new matches based on similar interests.
The "Relationship" membership plan is where things become more exciting. Once users join the "Relationship" community, they get complete assistance from a professional matchmaker. The matchmaker can scan through different profiles and compare them with each other to establish the best connections.
To add these two membership plans, our designers crafted two separate layouts. Based on a user's subscription plans, he/she would automatically be redirected to the suitable panel with personalized features.
Features
1

Admin Panel

First and foremost, we needed a full-fledged admin panel where Lady Matchmaker's team could easily track the monthly progress and check other analytics such as payments, subscriber acquisition, video call management, etc. With the admin panel, our first priority was to keep the navigation as simple as possible. To do this, our team added a navigation bar that allowed admins to navigate across different modules and track different reports easily.
2

Schedule Video Calls

Authenticity was supposed to be the biggest "USP" of the Lady Matchmaker dating platform. To authenticate their user profiles, users would have to upload 3 pictures and schedule a video call with one of the matchmakers. Based on the availability, the app automatically assigns a dedicated matchmaker to a particular profile and gives both the parties to schedule their call. Once the video call ends, the matchmaker can either approve or reject the user profile.
3

Buy Membership

When users set up their profile, they can choose the membership plan right away. As soon as they pick up a membership plan, the app would automatically redirect them to the payment gateway where they can choose from different payment methods to complete the process. Our team integrated a payment gateway with end-to-end encryption to ensure users can process monetary transactions under complete security.
4

Built-in Tutorial

Given that Lady Matchmaker has a unique operational model, it was necessary to familiarize new users with the overall functionality of the app. Our team designed a dedicated step-by-step tutorial to explain each feature individually and familiarize users with the app's user interface more conveniently.
5

Push Notifications

Over the years, we have utilized Push Notifications in different ways and they are one of the most integral features of a modern-day mobile application. With Push Notifications, Lady Matchmaker's team could send reminders, new offers, and match requests to users.
Results
Launching a Successful Dating Platform to Eliminate Catfishing from the Online Dating World.
Within a time frame of three months, our development team built a cross-platform dating solution for Lady Matchmaker that transformed the entire dating experience for many users. Today, the platform is leading the online dating industry and competing with some of the industry giants like Tinder and Bumble.

Entrepreneurship Offer:
Flat 50% off
Across App Development Services
Want to discuss your idea?
Hi I am Ryan, a Business Consultant at
RV Technologies. We are excited to hear
about your project.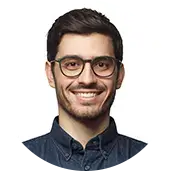 Drop us a line and we will connect
you to our experts.
Let's Get Started
We're here to help you. Fill the form below and we will get you in touch with our experts soon.