Overview
ImaginFires is a London-based fireplace retailer that primarily sells bioethanol fireplaces. These one-of-a-kind fireplaces are eco-friendly and don't harm the surroundings like traditional firewood fireplaces. Back in 2014, the company decided to step into the digital market with its unique product and hired RV Technologies to build a robust shopping platform for them.
After analyzing their business model and executing detailed market research, we decided to use Magento as the e-commerce platform for the ImaginFires store. In the beginning, our UX/UI designers worked closely with the team at ImaginFires to create different wireframes and finalize a dedicated UI structure for the website.

Challenges
Unlike other shopping marketplaces (like Amazon), ImaginFires was designed to only sell a single product. So, in addition to providing customers with an immersive shopping experience, it was also imperative to educate them about the benefits of using a bioethanol fireplace.
It meant our designers had to strategically place the content and well-optimized "Call-to-Actions" so that the website would encourage new visitors to complete the sales. In addition to this, security threat was another major concern for ImaginFires, considering the company had planned to offer online payments to the customers.
How RV Technologies Developed a User-Friendly Shopping Portal for ImaginFires
While designing the initial wireframe, we focused on deciding a layout that would equally distribute content and product descriptions throughout the website. Once the layouts were approved, we moved towards designing the UI. Meanwhile, the development team started integrating features, plugins, and APIs to provide desired functionality to the website.
A few of these features include:
1. Describing the Product
First and foremost, we designed a dedicated tab where ImaginFires could upload relevant product descriptions and inform users regarding their one-of-a-kind bioethanol fireplaces.
To ensure that shoppers could easily understand the key features of these fireplaces, our team published the content in bullet formats. Apart from making the content easy to read, this also enhanced the overall design, making ImaginFires an engaging shopping platform.
2. One-Click Navigation
For any online shop, easy navigation is the key to retain customers and provide them with a seamless shopping experience. Since we have worked on various e-commerce stores in the past, we are well-familiar with the importance of easy navigation. That's why we placed a one-click navigation bar that would allow shoppers to navigate to any product page with a single click.

In addition to product pages, we also added links to other useful pages in the navigation bar. These pages mainly included video tutorials, FAQs, and accessory pages. With the navigation bar in its place, the users had the ability to move to any web page within a few seconds.
3. Product Showcase
Our Magento developers further utilized Magento's custom layout feature to showcase all the products in one place. To draw the maximum attention, the designing team also displayed exclusive deals within this banner so that customers could find the best prices without any hassle.
4. Category Pages
To deliver a consistent shopping experience to the customers, our designers crafted well-optimized category pages that displayed all the products. Each category page was optimized with a "custom sort" and "filter-by" feature that would allow customers to filter the search results as per their shopping preferences.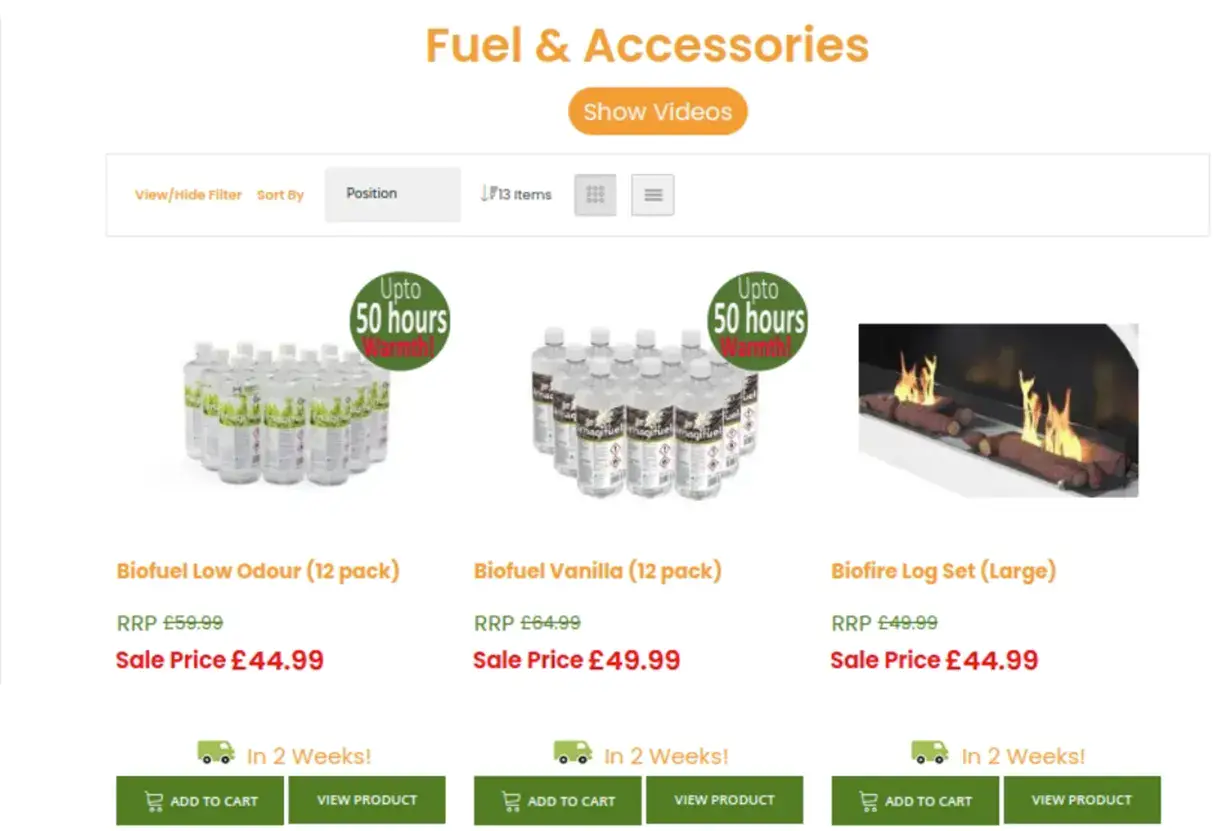 With the "custom sort" feature in its place, the category pages now allowed shoppers to sort the products by "Name", "Price", and "Position".
Furthermore, each product was displayed with dedicated "Add to Cart" and "View Product" buttons. This way customers could either visit the product page to get more information or directly add an item to their cart. These call-to-actions enhanced the overall shopping experience for the customers as they could instantly move to the checkout page.
5. Client Testimonials and Reviews
One of the best ways to promote a new product is to share reviews from users who are already relishing its benefits. That's why our Magento developers suggested the client to add a respective "Reviews" page that would display the live reviews from platforms such as Trustpilot and Google.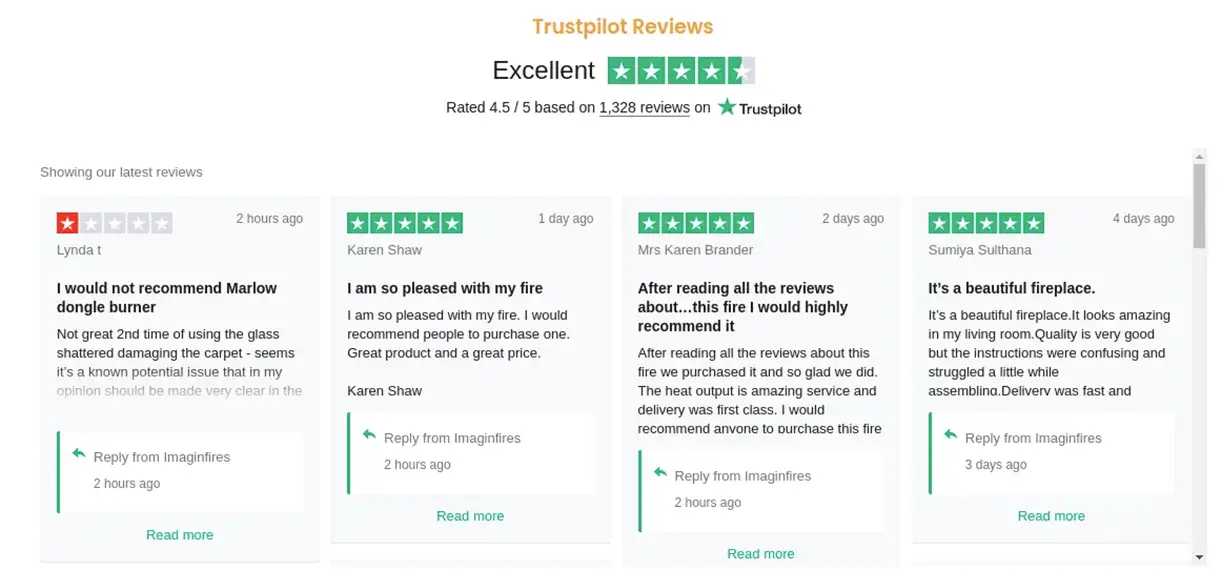 The development team integrated TrustPilot's pre-designed API, which ensured that the "Review" page on ImaginFires' website would automatically update with recent reviews from TrustPilot.
6. PayPal Payment Gateway Integration
Once other elements of the website were up and ready, the final step was to integrate a secured payment gateway to make monetary transactions secure. After discussing extensively with the client, we chose PayPal's payment gateway for the job.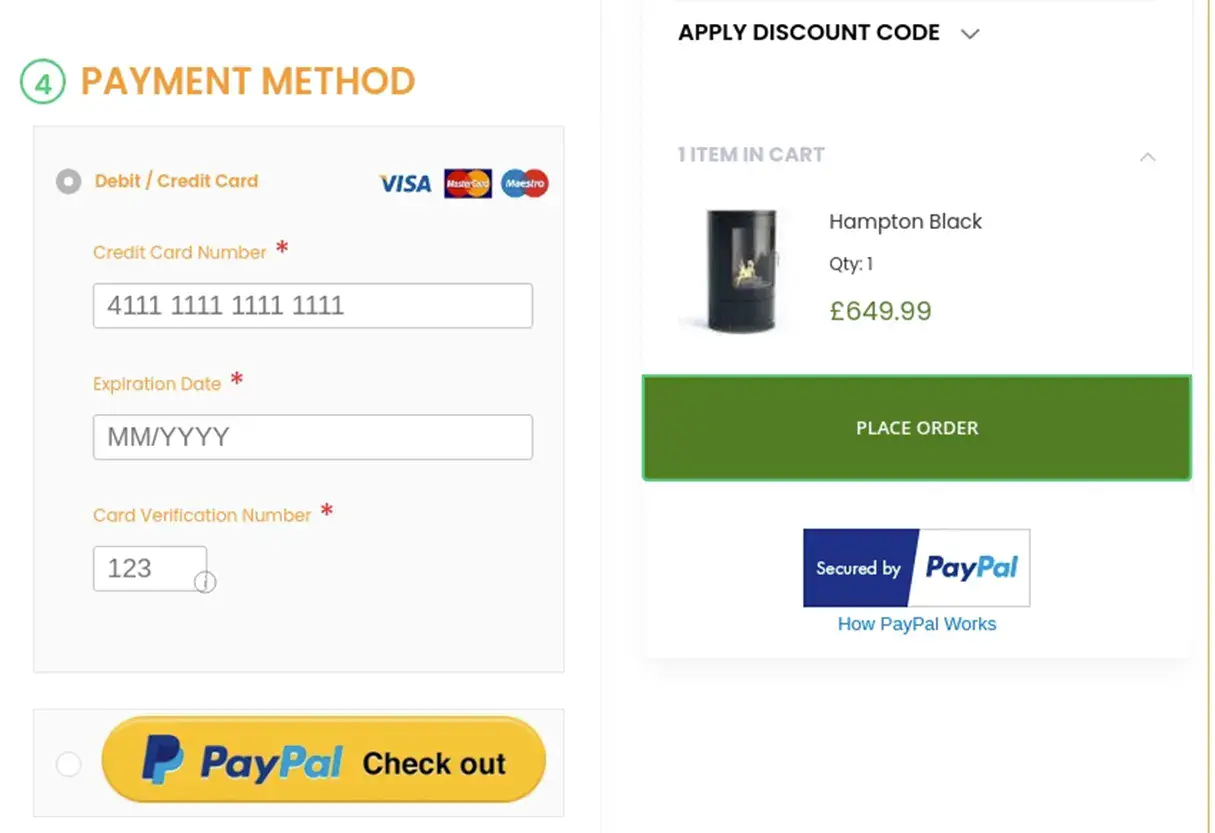 It supports multiple payment options, which means users would have been able to pay via their debit card, credit card, and even an e-wallet. Moreover, PayPal's fully encrypted payment gateway also added an additional security layer to the website, allowing customers to shop in a completely secure environment.
Results
A Responsive eCommerce Shop that Allowed ImaginFires to Become the Biggest Distributor of Bioethanol Fireplaces in the UK
Within 5 months, our developers managed to build a user-centric e-commerce store for ImaginFires that helped the company target new customers through a strong digital presence. Today, after seven years of its website launch, ImaginFires has become the most popular online distributor of bioethanol fireplaces and has already processed thousands of nationwide orders.