Overview
With thousands of camping sites across the nation, Australia is undoubtedly one of the adventure hubs in the world. From hikers to people exploring the country in their caravans, people are always looking for these camping spots to settle down and relax after a thrilling day on the road or wilderness.
Unfortunately, the majority of these camping sites aren't marked on Google Maps. Instead, platforms like Full Range Camping give hikers/campers the whereabouts of these hidden spots so that they can pitch their camps and spend the night in complete comfort. Today, Full Range Camping is the biggest camping community with 100,000+ active members and access to more than 11,000 camping sites throughout the country. Every month it allows campers, RV travelers, and regular hikers to find nearby camping spots right on their smartphones.
However, a few years ago, when Full Range Camping first approached RV Technologies, it wasn't as successful as today. Despite having a clear vision and a web presence, Full Range Camping was struggling to attract its target audience in Australia. The lack of a mobile presence was the biggest barrier for Full Range Camping as the majority of hikers prefer a mobile app to locate camping sites instead of a website.
The management team at Full Range Camping knew the problem and wanted to partner with a tech partner who could build a custom mobile app for their business so that they don't have to lose any valuable customers.
Challenges
Full Range Camping already had a few customers on their website, but due to the lack of a mobile presence, their customer acquisition rate was relatively low. The biggest challenge for our team was to develop the mobile application and ensure fast time-to-market. So, we got on a call with the client and devised a well-planned development strategy to avoid unexpected pitfalls and launch the product within the specified timeframe.
Solution
Integrating Full Range Camping's Website With the Mobile App for a Complete Digital Presence.
On their website, Full Range Camping also had a dedicated "Classified" section where they were selling used/new camping equipment that customers could buy directly. To ensure that the company could keep getting revenue from these classifieds, our team ensured to integrate this section into the mobile app as well. This would result in better sales opportunities for FRC's online store.
Apart from adding the classifieds section, our UX/UI designers also devised a fully navigable UI so that users can navigate through different modules easily. Our team further integrated different features to add the required functionality and make Full Range Camping an all-in-one camping solution for adventure enthusiasts.
Offline Mode
Weather Updates
Nation-Wide Campsite Search (With Customized Filters)
Features
1

11,000+ Campsites

The primary goal for Full Range Camping's mobile portal was to make it the biggest camping platform in Australia. The team already had the data of 11,000+ camping spots in the country and our job was to list these locations within the app along with general information like the current weather conditions, terrain, and driving directions.

To do this, our team utilized Google Maps & Here Maps API and listed all the locations along with their GPS coordinates to help hikers find the most accurate location to the campsite.
2

Offline Mode

While doing our research, we evaluated that the majority of available camping applications had a huge limitation. Since network availability can't be guaranteed in secluded areas like national parks, one couldn't rely on these applications all the time.

To overcome this hurdle, we had already decided to add a dedicated offline mode that would also provide users with access to nearby campsites, even when they are not connected to the Internet. All they have to do is download the map of a particular area and access it whenever they want.
3

Real-Time Navigation

After selecting a particular camping site, users also need a marked route to reach the spot. With Maps integration, we added the turn-by-turn navigation feature that tracked the user's current location via GPS and provided him with real-time location updates so that he can reach the spot easily.
4

Customized Search Filters

While scrutinizing camping sites, hikers can also apply search filters to find a camping spot that best matches their preferences. They could apply search filters to locate camping sites with amenities such as Toilets, Showers, Power, Pet Friendly, etc. As soon as a search filter is applied, the app automatically filters out unnecessary results and only displays relevant camping sites.
5

Weather Updates

Weather plays an important role while looking for a camping location after a strenuous hike. By integrating a dedicated API for weather, we ensured that Full Range Camping's mobile app could send real-time weather updates to users via push notifications, allowing them to plan their ideal camping sites in advance. With advanced rainfall alerts, hikers can avoid damp campsites and spend their night in full comfort.
6

Campsite Reviews and Feedback

After the hikers have successfully spent a night in a campsite, he can also share his feedback/reviews to help fellow hikers make the right decision and provide campsite owners with relevant information to help them update their services.
Results
A Mobile-Based Camping Solution for Australians that Acquired 10,000+ Downloads in a Short Time Span.
Initially, the client was searching for a development partner that could help the company build a complete digital presence by building a feature-packed mobile app for Australian hikers and caravan enthusiasts. The team had also envisioned integrating their existing website with the mobile app so that it becomes easier to navigate the mobile traffic to its classifieds and generate better revenue. Our team clearly understood the task and built an all-in-one mobile application for Australia's largest camping community.

Entrepreneurship Offer:
Flat 50% off
Across App Development Services
Want to discuss your idea?
Hi I am Ryan, a Business Consultant at
RV Technologies. We are excited to hear
about your project.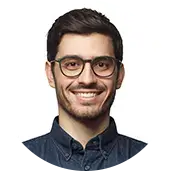 Drop us a line and we will connect
you to our experts.
Let's Get Started
We're here to help you. Fill the form below and we will get you in touch with our experts soon.