Overview
Empire Startups is a community of Fintech entrepreneurs, investors, and financial service providers with 17,000 active members across different countries. The company organizes Fintech meetups (primarily in the United States) to help startups and small businesses find valuable contacts and meet fintech experts. Started as a single meetup in a small conference room of New York, Empire Startups has now spread its operations in other corners of the world.
Empire Startups organized their first meetup in 2011 and for nearly four years, the company continued running its operations through a single-page website. However, with its expanding customer base and business operations, Empire Startups soon realized that it would be important to switch to a full-fledged website that would make it easier to convert leads into valuable customers.
They approached RV Technologies with the problem and our WordPress web developers instantly suggested various solutions to transition to a multi-page web platform. Due to the extensive expertise and years of experience in WordPress development, Empire Startups was impressed with our suggestions and instantly hired RV Technologies as their WordPress development partner.

Challenges
Transitioning from a Simple Landing Page to a Fully-Functional WordPress Platform.
Empire Startups was already using a single-page website as their digital face and wanted to modify the same to turn it into a multi-purpose website. However, this would have made the job more challenging for our developers because they would've been restricted by the current architecture, resulting in the poor user flow. To avoid this scenario, our WordPress developers suggested the client to build the website from the ground up and then integrate the existing page (if required).
RV Technologies initiated the process by defining the new user flow along with the basic design. After the client and our developers were on the same page with the design, we moved towards building different elements of the website to make it engaging for the users.
Solution
Building an Easy-to-Navigate Website for Empire Startups Using WordPress
1. Clear and Navigable UI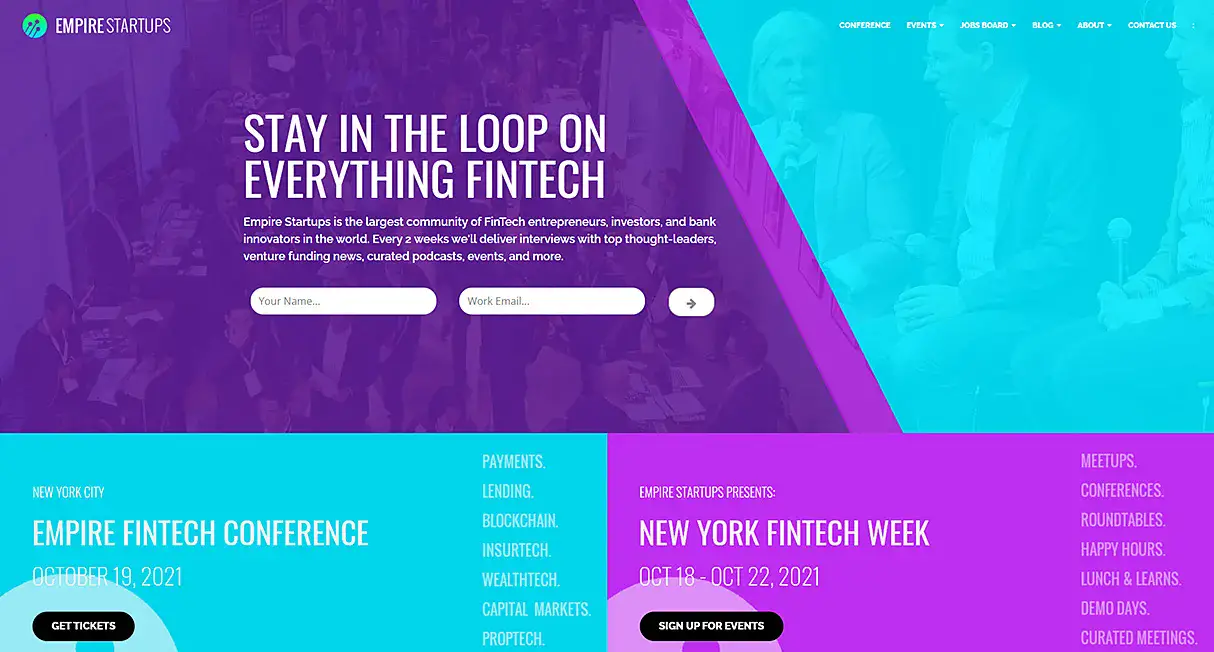 With the older website, usability was a major concern because the UI was cluttered unnecessarily. So, while designing the initial wireframe, we were pretty clear that the new website would have a simple and easy-to-navigate user interface. To do this, we strategically placed different elements on the home page so that it would become easier for the users to navigate to any web page without any hassle.

At the top, we placed a dedicated navigation bar that contained links to all the major web pages. We further added sub-categories using drop-down menus to ensure everything was accessible from the navigation bar itself. Finally, our developers changed the navigation bar's status to 'static' so that it remains constant on every web page of the website. This way users would have been able to navigate to any web page with a single click.
2. Call-to-Actions

In the previous website, the designers hadn't used the call-to-actions properly. So, even when the website was attracting a significant amount of traffic, it was struggling to improve the conversions. To avoid this mistake, we placed dedicated "Call-to-actions" throughout the website so that Empire Startups could easily navigate the website visitors through its sales funnel.
With the new website, we wanted Empire Startups to unlock better conversion opportunities. That's why our marketing team closely worked with the marketers at Empire Startups to finalize the placement of each Call-to-Action button.
3. Mobile Friendliness
The world is shifting towards mobile and it has become the go-to device for users to browse different websites. As a professional WordPress development company, we are aware of this new transition and that's why we always prioritize mobile-friendliness while working on a WordPress website.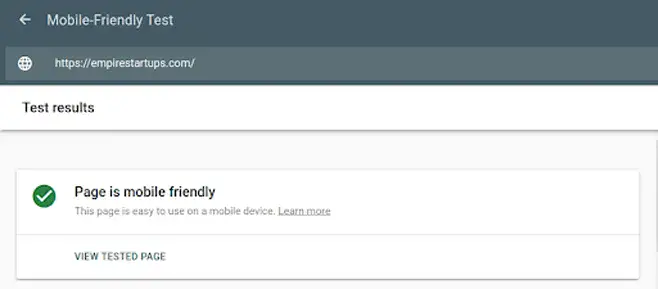 With Empire Startups, our developers chose a mobile-friendly theme while also following a responsive design approach at the same time. The theme ensured that the web pages would automatically adjust their layout when visited on a mobile phone. As a result, Empire Startups started driving traffic from mobile users as well.
4. Showcasing Fintech News
The client had envisioned Empire Startups to be an all-in-one FinTech platform where entrepreneurs could find relevant information on handling the financial aspects of their startups. So, in addition to organizing events, Empire Startups also wanted to share regular news and daily insights into Fintech.
To ensure this information reaches the website visitors, our developers placed a dedicated "News" section on the homepage itself. This section contained every new article that Empire Startups would publish under the 'News' category. We integrated the RSS Feed plugin, which automatically updated the section with the most recent news articles.
5. Fintech Job Management System
Empire Startups also wanted to help aspiring candidates contact different employers and secure relevant jobs based on their skills. We included a dedicated "Jobs Board" page where users could easily find top fintech jobs in different cities. We created separate sections for jobs in New York and San Francisco, allowing candidates to apply for the desired job instantly.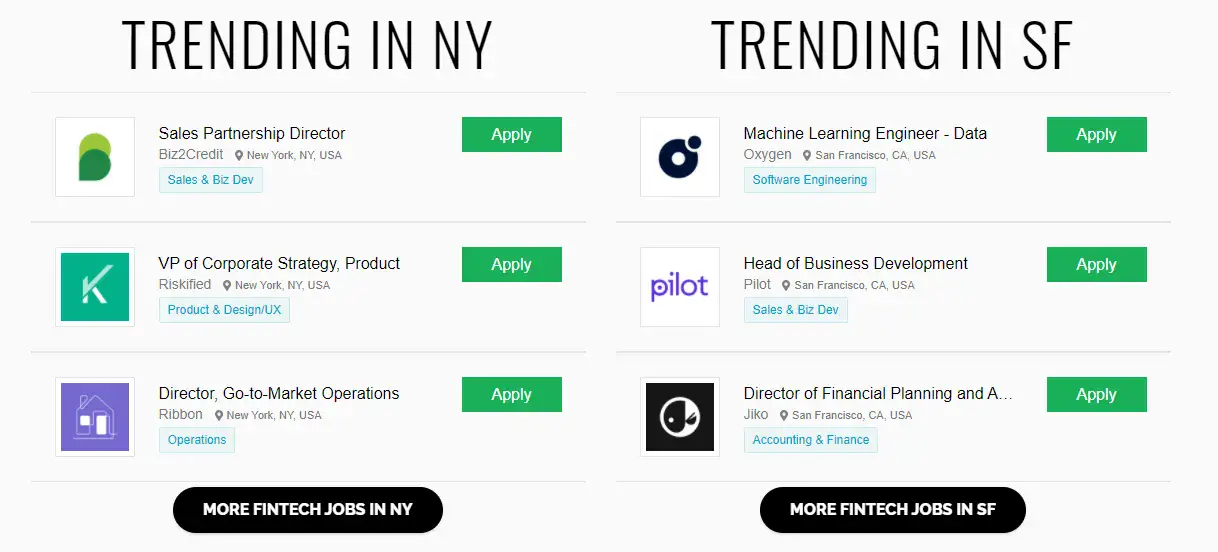 We also configured this page to automatically update the list with top fintech jobs. This way candidates would always have access to the most popular jobs in the industry.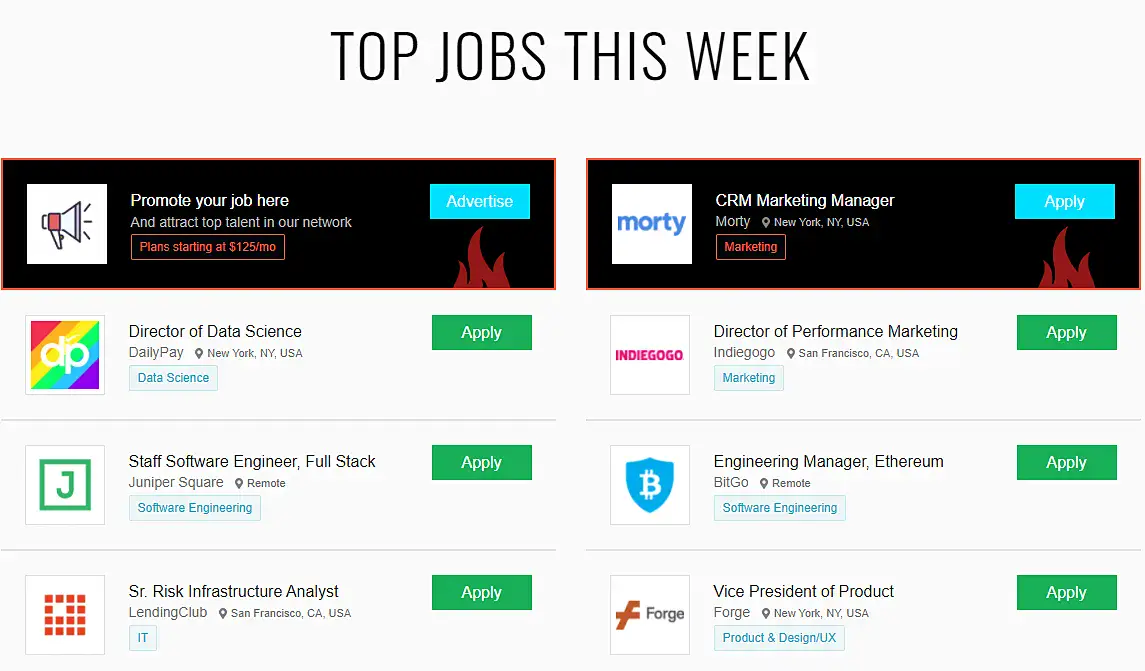 6. Fintech Podcasts
Empire Startups was already releasing podcasts on different audio platforms such as Spotify, Overcast, and iTunes. However, since they didn't have a massive reach on any of these platforms, we included a separate "Fintech Podcasts" web page.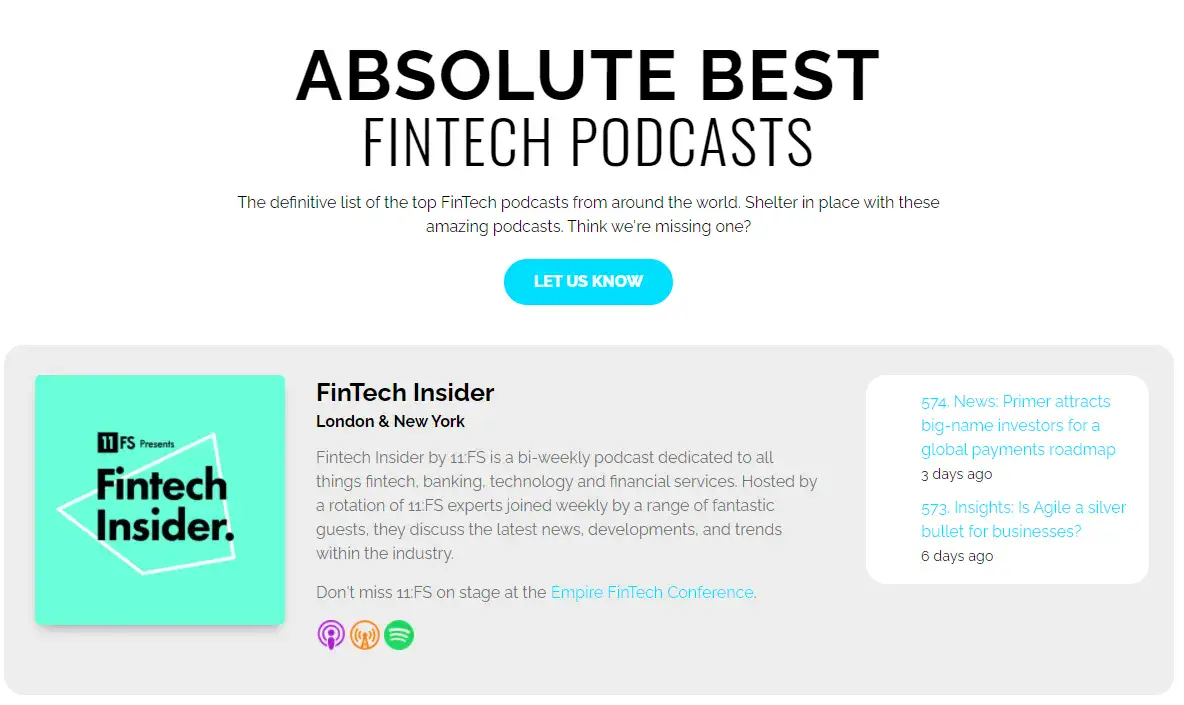 This would allow the company to redirect website visitors to their daily podcast episodes and expand their listener base on all three platforms. We integrated dedicated APIs for Spotify, Overcast, and iTunes, allowing users to go to these platforms with a single click.
Results
A Powerful WordPress Platform for Empire Startup that United the Entire Fintech Community
After three months of continuous development and testing, RV Technologies successfully deployed Empire Startups' WordPress website in the market. Today, the website has become one of the widely popular Fintech platforms in the United States where users can find the most useful information about the industry.