Overview
BGMG (Brendon Gunn Media Group) is an Australian digital agency that offers various IT services including web development and Search Engine Optimization (SEO) to a global clientele. Before establishing its digital presence via a website, BMGM had been running its operations through platforms like UpWork and Fiverr. However, as the company started to scale and acquire more clients, it became imperative to have its own website that showcases all its services/expertise.
Even though BGMG had an in-house web development team, they wanted to hire a third-party development team to build a full-fledged WordPress platform for their organization. Why? Because the in-house developers were busy handling the clients' projects and didn't have enough time to handle a new project (that too from scratch).
As a team of experienced web developers, BGMG was well-familiar with the tactics to look for a reliable web development partner. So, they began the search and came across several candidates before finally finding RV Technologies on Clutch. Our vast portfolio left a strong first impression and helped us stand out among other service providers.
After interviewing our WordPress developers for several hours, BGMG was convinced to hire RV Technologies as their web development partner. So, we planned a custom roadmap for BGMG's WordPress website and implemented different methodologies to deliver a user-friendly website for the company.

Unlike many other service providers, BGMG had envisioned its website to be simple and easy to navigate. Since the website didn't require any advanced features such as Payment Gateway Integration or custom filters, user-friendliness was its only weapon to attract customers. Moreover, BGMG wanted to launch a platform that would clearly showcase all its services while delivering additional information as well.
To achieve this goal, our developers ran extensive market research to evaluate all the competitors and identify their development strategies. Based on the accumulated data, we built a custom development plan to craft a standalone website for BGMG.
Challenges
The major challenge with BGMG's website was to maintain a uniqueness factor across all the web pages. The Australian IT industry has several web development agencies and the majority of these companies have a similar design. To help BGMG establish a unique brand presence, we had to follow a unique design approach and help the company gain a competitive advantage.
Solution:
A Responsive Website that Allowed BGMG Drive Traffic from Multiple Channels.
Our WordPress developers started by choosing a responsive WordPress theme for the website. Since the website was going to target both desktop and mobile users, the responsive theme ensured that it delivered a seamless browsing experience, irrespective of the device it's being accessed on. We further customized the source code to customize the overall UI and showcase all the services more conveniently.
1. User-Friendly UI
Our UX-UI designers customized the source code to create a tile-based user interface for BGMG. This made it easier to allocate separate sections for each service with a dedicated "call-to-action" at the end.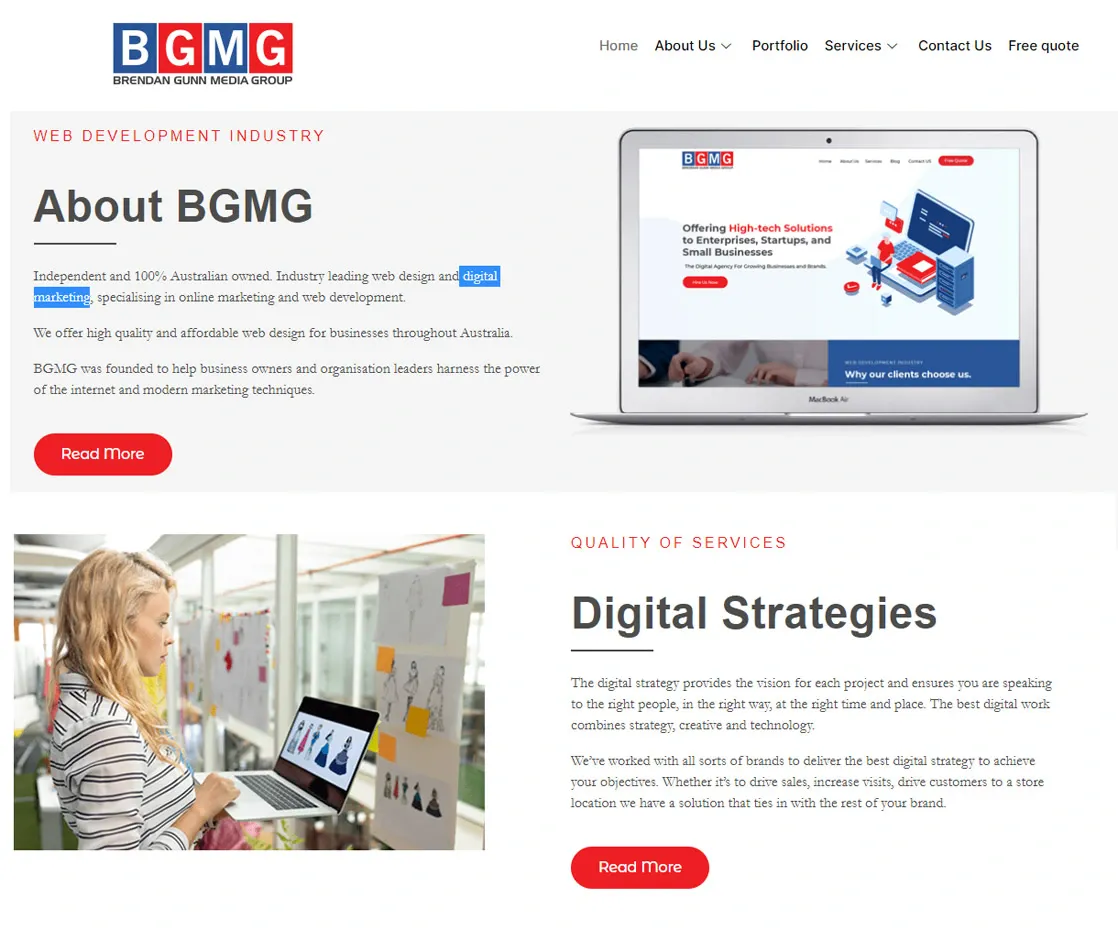 Due to this tile-based structure, the home page looked more aesthetic and it became easier for users to choose the right services accordingly. We further optimized the overall user interface by adding a dedicated navigation bar at the top of the website. This navigation bar contained links to all the web pages, which made the entire website easy to navigate for the end-users.

2. Portfolio
For any digital solution provider, the portfolio is the most important element to attract new customers and drive them towards the next phase of the sales funnel. We added a separate Portfolio page on the website.
This page displayed information about BGMG's previous projects. With a separate Portfolio page coming into the play, it became easier for BGMG to share its expertise with potential customers.
To make the Portfolio more appealing, our developers integrated a dedicated slider API that automatically put up a slideshow of all the websites the company has worked on in the past.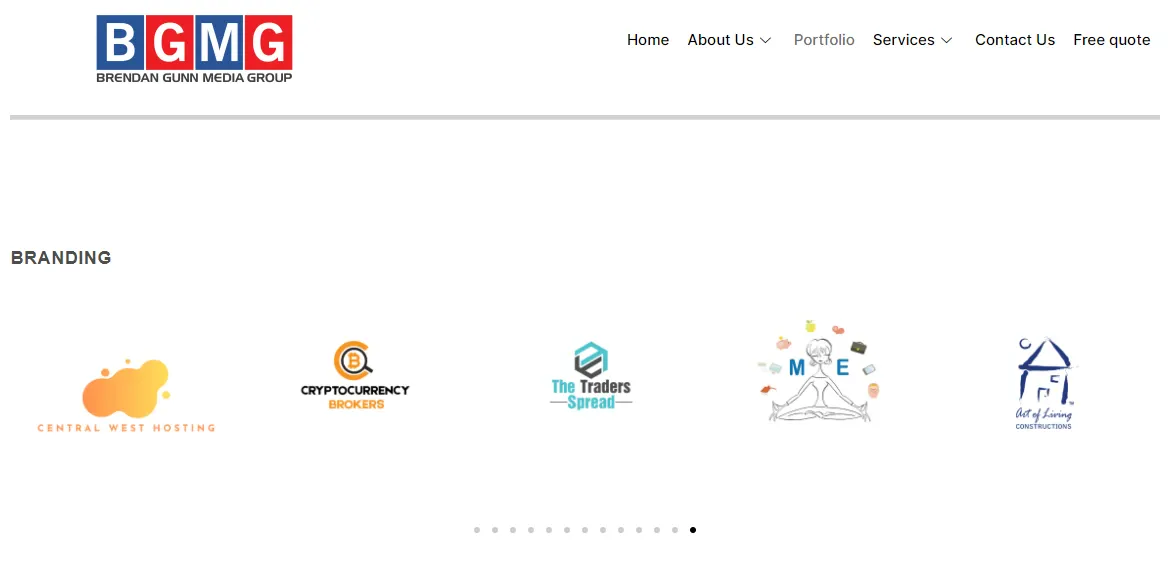 3. Service Pages and Call-to-Actions
The next step was to create individual service pages and place dedicated call-to-actions across them so that the company can easily convert website visitors into long-term clients.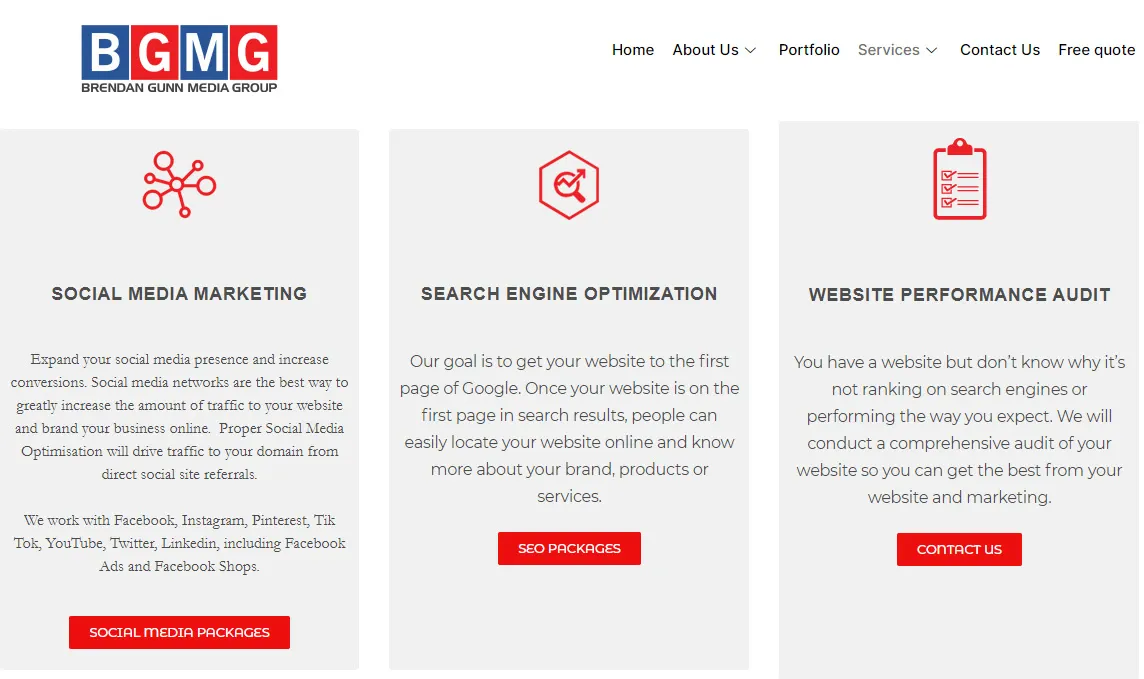 While working on the service pages, our developers worked with the digital marketing team to add fully optimized content for each service page. This way whenever a user would land upon any of the service pages, he would get a clear idea immediately. The marketing team also decided on the accurate placement of different call-to-action (CTA) buttons to ensure that the website drives maximum conversions.
4. Social Media Integration
To help BGMG establish a strong online presence, we integrated dedicated social media buttons at the footer. These buttons allowed users to redirect to the company's social media profiles on different platforms including Facebook and Linkedin.

We also optimized the footer by adding a newsletter subscription option to allow BGMG to expand its email list and stay in touch with loyal customers. And, finally, we placed links to all the major web pages at the footer to ensure that users could navigate to any web page within a single click.
Results
A Full-Scale Website that Allowed BGMG Reach Its Global Clients More Effectively
Thanks to our time-tested development approach, we managed to deliver the website for BGMG before the final deadline. The website helped the organization establish its own brand value in the digital spectrum and compete with other service providers in the market.