Disrupt
.

Accelerate

.

Scale

.
We're your
trusted partner

in building
apps and products

unique to your business.

See Portfolio
Services designed to
launch you as a market leader
Startups. SMEs. Enterprises.

We work across all industries,

no matter the size.
You're in
good company

. Our customers love

♥

us.
Our sales just went through the roof after we revamped our website and developed our app with RV Technologies. I'm quite pleased with their professionalism and team. Love their prompt responses too.
John Smith
CEO, Netten inc., Canada
The company is quite satisfied with the RV Technology team's performance throughout the duration of the project. The company appreciated the team's reliability and cost-efficiency in carrying out their tasks. The company was most impressed by how the team was able to implement the features they needed.
Easwaran Kanason
Director, NrgEdge, Singapore
RV Technologies Softwares Pvt. Ltd. managed to finish the beta version of the project and it has received excellent feedback from the testers.The project manager was able to communicate effectively and smoothly with the client.
Aaron Brask
Investment Advisor, Florida, United States
RV Technologies was able to finish the project in a timely manner despite working in a different time zone. They were flexible, responsive, and cooperative during the project. One highlight of the partnership was the vendor's ability to deeply understand the company's needs to improve their project.
Bashar Al-Hussaini
Planner at City of Mississauga, Canada
The app's free- and premium-membership users rose significantly since RV Technologies Softwares Pvt. Ltd.'s involvement. Internal stakeholders of the camping directory company praised the team's reliability and ability to deliver what was required.
GLEN WILSON
Director at Full Range Camping, Australia
The software launched successfully and the client was very satisfied with the team's performance. The team fixed bugs quickly with no issues. The overall communication was wonderful, with daily updates on the progress from the team.
TIM BOWDEN
Managing Partner at Bowden Capital Partners, LLC, United States
The app successfully attracted users and caught the attention of investors.RV Technologies implemented a fluid Scrum methodology, created an outstanding product, and easily accommodated budget limitations.
KIMBERLY GRAY
CEO, Uvii, New York, United States
From the moment we started working with RV Technologies, I was impressed with their ability and attention to detail. Their prudent approach is also very comforting and I know that I'm in good hands.
Charles Fitzgerald
CEO, The Kewl Shop, United States
Trustworthy. Passionate. Dependable.
Meet our A team

.

Ever since 2007, we've been consistently helping businesses achieve excellence and success by enabling them to scale with technology. The RV Technologies team comprises individuals who are passionate about making a difference for you through impactful product development.
We're
recognized

by some of the

best in the industry

.
Our Technology Stack
We are adept at all possible tech stack for both web and mobile, as well as a wide range of platforms, languages, and database systems.
Words of
Wisdom
Where we share insights, industry trends, opinions, tips. It's all here.

Entrepreneurship Offer:
Flat 50% off
Across App Development Services
Want to discuss your idea?
Hi I am Ryan, a Business Consultant at
RV Technologies. We are excited to hear
about your project.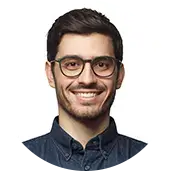 Drop us a line and we will connect
you to our experts.
Let's Get Started
We're here to help you. Fill the form below and we will get you in touch with our experts soon.